High-Feed Shell Mill Cutter yeilds high level of material removal.
Press Release Summary: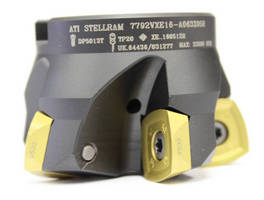 Stellram® 7792VXE16 high-feed shell mill cutter provides high-speed metal removal in titanium and titanium-based alloys, nickel-based alloys, and cobalt-based alloys. Tool directs cutting forces axially into spindle, minimizing spindle wear. Able to take repeated shallow depths of cut, unit is capable of face milling as well as pocketing, slotting, and plunging. It is compatible with various insert grades to meet application needs.
---
Original Press Release:

Stellram® 7792VXE16 High-Feed Cutters Increase Metal Removal Rates up to 5 Times in Difficult to Machine Metals



LaVergne, TN - ATI Stellram introduces the new patented Stellram® 7792VXE16 high-feed shell mill cutter, designed to yield the highest levels of material removal rates in titanium and other Difficult-to-Machine alloys such as nickel-based alloys, cobalt-based alloys and titanium-based alloys.

Stellram 7792VXE16 milling tools direct cutting forces axially into the spindle, lessening spindle wear and improving machining stability. Both modern and older equipment can benefit from the adoption of this cutting tool technology.

These Stellram face mills take repeated shallow depths of cut and operate at very high feed rates. High feed rates increase metal removal rates up to 5 times greater than conventional cutters, dramatically reducing component costs. In addition to high-feed face milling, the 7792VXE16 tool is capable of pocketing, slotting, and plunging.

Inserts for the 7792VXE16 cutters feature four cutting edges for improved tool economy. Many insert grades are available:

1. Grade X500 is a member of ATI Stellram's high performance premium X-Grade(TM) Technology family of carbide inserts designed for the toughest applications in Nickel-based alloys, Cobalt-based alloys, Titanium and Titanium-based alloys.

2. Grade X400 is a high performance premium X-Grade(TM) insert designed for the toughest of applications in Steels and Hardened Materials to 53HRC.

3. Grade SP6519 offers the combination of a tough substrate with the latest generation of TiAlN super nano coating making this a versatile grade equally suited for High Temperature Alloys and Stainless Steels.

4. Grade SC3025 offers the combination of a tough substrate and a wear resistant CVD coating to enhance performance in difficult cast iron machining conditions and is equally suited for either Grey or Ductile Cast Irons.

The Stellram 7792VXE16 cutter is a proven high performance milling tool which allows for productive cutting of Difficult-to-Machine materials on older equipment.

For more details on the high-feed Stellram® 7792VXE16 face milling cutter, visit www.atistellram.com or email info@ATImetals.com.

ATI Stellram is a business unit of ATI Tungsten Materials, a member of ATI Engineered Products, one of the ATI group of companies. ATI is a leading producer of specialty metals including titanium and titanium alloys, nickel-based alloys and superalloys, stainless steel and specialty alloys and powder metals. ATI Stellram has manufacturing facilities in the United States, United Kingdom and Switzerland, with 9 sales offices around the world and a product distribution network covering 40 countries.

More from Electronic Components & Devices