High-Density Array Cable Assemblies suit constrained spaces.
Press Release Summary: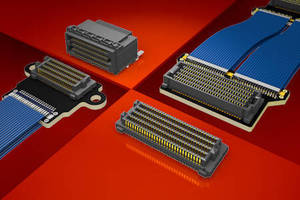 With performance to 15 Gbps and up to 300 total Edge Rate® contacts, SEARAY™ .0315 in. pitch array cable assemblies (ESCA Series) are designed for high-speed, space-constrained applications. Products offer 50 Ω single-ended signal routing on 34 AWG micro ribbon coax cable with 20 or 30 contacts per row in 8 and 10 row designs. Features include signal to ground ratio of 4:1, optional screw downs, and minimum cable length of 2 in. Both cable ends are available in socket and terminal options.
---
Original Press Release:

SEARAY(TM) 0.80 mm Pitch Ultra High Density Array Cable Assemblies for Space Savings Now Available



Samtec's SEARAY™ 0.80 mm (.0315") pitch ultra high density array cable assemblies provide 50 percent board space savings compared to .050" (1.27 mm) pitch SEARAY™ systems. With performance to 15 Gbps and up to 300 total Edge Rate® contacts, this cable system is designed for rugged high speed applications where space is limited.



SEARAY™ 0.80 mm (.0315") pitch array cable assembly (ESCA Series) offers 50Ω single ended signal routing on 34 AWG micro ribbon coax cable with 20 or 30 contacts per row in 8 and 10 row designs. The cable assembly features a signal to ground ratio of 4:1, optional screw downs and a minimum cable length of 2 inches. Both cable ends are available in socket and terminal options. SEARAY™ 0.80 mm pitch board level mates (SEAM8/SEAF8) are available in 2 mm and 5 mm body heights for design flexibility and standard lead-free solder charge terminations to simplify IR reflow termination and improve solder joint reliability.



The featured Edge Rate® contact system increases cycle life and minimizes the effects of broadside coupling, which decreases crosstalk for superior signal integrity performance and impedance control. This rugged contact system is also less prone to damage when "zippered" during unmating.



SEARAY™ products are the industry's largest offering of high speed, high density open pin field arrays. They support 28+ Gbps applications and are also Final Inch® certified for Break Out Region trace routing recommendations to save designers time and money. Samtec's Signal Integrity Group provides application support via its in-house signal integrity engineers for SEARAY™ interconnects and many other products. These highly qualified engineers help with application specific design, modeling and testing as well as interpretation of the test data and performance results, and much more.



To request a high resolution image for print, please contact: PR@samtec.com.



For product specifications, see samtec.com/ESCA.



Samtec, Inc.

P.O. Box 1147

New Albany, IN 47151-1147 USA

Phone: 1-800-SAMTEC-9 (800-726-8329)

www.samtec.com

Email:

Asia: singapore@samtec.com

Australia: australia@samtec.com

France: france@samtec.com

Germany: germany@samtec.com

United States: info@samtec.com

United Kingdom: scotland@samtec.com

More from Sensors, Monitors & Transducers