High-Definition DVD-ROM Discs offer capacities to 45 GB.
Press Release Summary: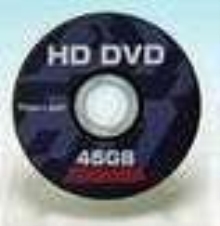 Able to record up to 12 hr of HD movies, triple-layer HD DVD-ROM disc features data capacity of 45 GB and is approved and standardized at DVD Forum. Double-sided, dual-layer hybrid ROM disc, comprised of dual-layer HD DVD-ROM side and dual-layer DVD-ROM side, stores 30 GB of HD content on HD DVD-ROM side and 8.5 GB of standard-definition content on DVD-ROM dual layer side. Both discs share same disc structure: two 0.6 mm thick discs bonded back-to-back.
---
Original Press Release:
Toshiba Unveils 45GB HD DVD-ROM Disc and Double-Sided Hybrid Disc

Tokyo, Japan and Las Vegas, United States, May. 10, 2005 - (JCN Newswire) - Toshiba Corporation (TSE: 6502)(NASDAQ: TOSBF)(FTSE: TOS) today announced development of a triple-layer HD DVD-ROM (read-only) disc with a data capacity of 45 gigabytes, 50% more than the 30-gigabyte dual-layer HD DVD-ROM disc already announced and enough to record twelve hours of high-definition movies on a single disc. The new disc adds a high-end option to the previous HD DVD-ROM disc lineup that includes the 15GB (single-layer, single-sided) and 30GB (dual-layer, single-sided). These two discs are already approved and standardized at the DVD Forum.

Toshiba also announced a double-sided, dual-layer hybrid ROM disc comprised of dual-layer HD DVD-ROM side and dual-layer DVD-ROM side. The hybrid disc can store 30GB of high-definition content on the HD DVD-ROM side and 8.5GB of standard-definition content on the DVD-ROM dual layer side. More than 84 million DVD players and recorders were produced worldwide in 2004 alone. The standard definition content of the new hybrid discs can be replayed on these platforms, while their owners will also be able to enjoy high-definition content from the same source when they purchase HD DVD players in the future. The new disc further prepares the way for a smooth transition from DVD to HD DVD.

Details of these new discs will be presented at the May 11 HD DVD workshop at Media-Tech Expo 2005 in Las Vegas, U.S., the leading annual trade show for the optical disc manufacturing industry.

All these new versions of HD DVD-ROM discs share the same disc structure as previously announced HD DVD formats, and today's DVD format: two 0.6-mm thick discs bonded back-to-back, a time-tested physical structure with proven volume manufacturing capability at little cost increment.

Memory-Tech Corporation, Japan's largest independent disc replicator, has confirmed the new 45GB and hybrid discs can be produced on their existing manufacturing lines and equipment, which are tailored to produce HD DVD discs, with only minor additional investment and minimum additional production cost per disc.

Mr. Shiroharu Kawasaki, President and CEO, Memory-Tech, said: "These new HD DVD discs will surely be welcomed by content holders, including Hollywood studios and game developers, as further broadening the scope of future applications. We have already started verification for volume production of triple-layered discs, and we are confident of early verification as they are based on the 0.6mm disc structure and established production technologies. We at Memory-Tech are fully committed to flexibly meeting variety of user requirements."

NEC Corporation and SANYO Electric Co., Ltd., both strong supporters of the HD DVD format also welcomed this announcement. "We are excited by the new discs and the way they further extend the possibilities of the HD DVD format," said Mr. Hiroshi Gokan, Executive General Manager of Computers Storage Products Operations Unit at NEC. SANYO's Dr. Keiichi Yodoshi, Deputy General Manager of R&D Headquarters said, "The new discs demonstrate that 0.6mm discs can support diverse applications and achieve technical excellence, while fully securing firm backward compatibility."

Technical features

1) Triple-layer 45GB disc

The newly developed ROM disc has a single-sided, triple-layer structure. Each layer stores 15 gigabytes of information. Triple-layer discs can be easily produced by back-to-back bonding of a 0.6mm-thick dual-layer disc and a single-layer 0.6mm disc.

In the process, a single-layer disc is first produced, using the same process as for HD DVD-ROM. Next, the second layer is formed on first layer using a one-time polycarbonate stamper, the same process used for the DVD-18 disc, the double-sided DVD disc that has dual-layers on both sides. Finally, the single-layer 0.6mm disc is bonded to the dual-layer disc, using standard technology.

2) Double-sided, Dual-layer Hybrid Disc

In December 2004, Toshiba and Memory-Tech announced development of a single-sided, dual-layer HD DVD-ROM/DVD-ROM hybrid disc. The DVD layer had a 4.7GB capacity, meeting the specification for current DVD discs, while the HD DVD layer had a 15GB capacity.

Now Toshiba has developed a double-sided, dual-layer HD DVD-ROM/DVD-ROM hybrid disc. Simply explained, the new hybrid disc bonds together a 0.6mm thick dual-layer HD DVD-ROM disc with 30GB capacity, and a 0.6-mm thick dual-layer DVD-ROM disc with an 8.5GB capacity (see attachment).

The dual-layer DVD-ROM disc structure is well established. The new disc has a structure as simple as that of current dual-layer DVD-ROM discs. Today, more than fifty percent of DVD-ROM discs on the market are dual-layer versions.

The new disc brings the clear benefit of satisfying consumers, retailers, disc producers and Hollywood studios. It allows consumers to view DVD content on standard DVD players and, after purchasing an HD DVD player, to enjoy high definition content on the HD DVD layer from the same disc. The new disc structure also increases options for content providers: they can provide the same content in two formats, or use the HD DVD layer for a feature movie and the DVD layer to store promotional videos or audio content, including the movie sound track. Retailers can also promote HD DVD hardware as well as maintaining standard DVD sales.

About HD DVD

HD DVD is the next generation DVD format being standardized at the DVD Forum, which represents over 230 consumer electronics, information technology, and content companies worldwide. HD DVD players and HD DVD video software are expected to come to market in late 2005, and will allow consumers to enjoy video content, including Hollywood movies, with crystal-clear, high-definition picture quality.

In November 2004, Paramount Home Entertainment, Universal Studios Home Entertainment, Warner Home Video, New Line Home Entertainment and HBO Home Video announced their official support of the HD DVD format.

With 0.6-millimeter thick discs bonded back-to-back, HD DVD discs adopt completely the same disc structure as current DVD discs. Because of that, disc manufacturers will be able to utilize their current disc manufacturing lines with only minimum upgrades.

For more information go to the Toshiba website at http://www.toshiba.co.jp/about/press/2005_05/pr1002.htm

About Toshiba Corporation

Toshiba Corporation is a leader in the development and manufacture of electronic devices and components, information and communication systems, digital consumer products and power systems. The company's ability to integrate wide-ranging capabilities, from hardware to software and services, assure its position as an innovator in diverse fields and many businesses. In semiconductors, Toshiba continues to promote its leadership in the fast growing system-on-chip market and to build on its world-class position in NAND flash memories, analog devices and discrete devices.

For further information, please visit the Toshiba Corporation home page at: http://www.toshiba.co.jp/index.htm

Contact

Toshiba Corporation

Corporate Communications Office

Tel: +81-3-3457-2105

URL: http://www.toshiba.co.jp/contact/media.htm

May. 10, 2005, 10:17 (JST)

Toshiba Corporation (TSE: 6502) (NASDAQ: TOSBF) (FTSE: TOS)

www.toshiba.co.jp/index.htm

From the Japan Corporate News Network

View Toshiba Corporation 's Company Profile On JCN Network

www.japancorp.net