High-Brightness Ceiling Downlights consume 40 W of power.
Press Release Summary: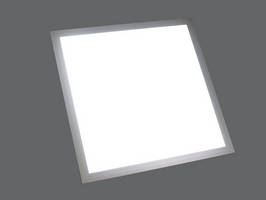 Troffer downlights offer 60 lumen/W efficiency along with 2,500 lumen brightness. Available in 4 different color temperatures ranging from 3,000°K to 6,000-6,500°K, product features CRI of 80 and LED lifetime of 30,000 hr. Assembly measures 24 in. square and is 0.43 in. thick, and its 100 LEDs are spaced evenly on two sides in rows of 50 each on slim light guide. This guide uses light extraction features to spread light across product's surface without hot spots or dark areas.
---
Original Press Release:

New High-Brightness Ceiling Lights Using LED-Based Edge Lighting Technology from GLT Offer Higher Efficiency with Fewer LEDs, Four Color Temperature Ranges, and Higher Color Rendering Index



Brecksville, OH - Global Lighting Technologies (GLT) has combined its edge-lit LED light guide technology with extensive Far East mass production capabilities to create a new and improved troffer downlight that is more efficient (60 lm/W), brighter (2500 lumens), offers four different color temperatures, and uses fewer LEDs.

The new troffer downlight assembly is 24 in./60cm square and approximately 0.43 in./10.9mm thick and weighs 3.5kg. It is edge-lit using only 100 LEDs, which represents a decrease of approximately 70% from previous versions. 50 LEDs are spaced along on each of two sides of the troffer assembly against the ultra-slim (3.5 mm thick) light guide, which uses advanced light extraction features to spread light across the troffer surface with perfect uniformity for bright, uniform illumination in a thinner form factor without hot spots or dark areas. Power consumption is only 40W, and the new troffer offers a high CRI (color rendering index) of 80.

Customers can select from four different color temperatures ranging from 3000K (warm white) to 6000-6500K (cool, bluish white).

According to GLT, illuminating this type of ceiling light with traditional fluorescent tube technology would have resulted in an assembly up to 5 inches thick. GLT's edge-lighting approach yields a much slimmer, more lightweight, higher intensity backlight with an LED lifetime of 30,000 hours. And, with four production facilities in China and Taiwan, GLT brings the advantages of mass production to a product that heretofore has been an expensive "one-off" where the light guide has had to be manufactured for each troffer. Now they can be manufactured in the thousands with no differentiation from piece to piece.

Since LEDs contain no mercury, the edge-lit troffer is an environmentally friendly solution as well. It also reduces maintenance and power consumption and, when compared to a direct backlighting approach using LED arrays, minimizes thermal management issues as well as the number of LEDs required for efficient, uniform light dispersion.

Pricing for GLT edge-lit troffer backlights varies according to size, application, number of LEDs and quantity. Contact GLT for details.

For more information, contact Global Lighting Technologies, Inc., 55 Andrews Circle, Brecksville, OH 44141. Tel: 440-922-4584; Toll-Free: 866-922-4584; Fax: 440-922-4585.
E-mail: info@glthome.com Web: www.glthome.com.

About Global Lighting Technologies:

Global Lighting Technologies (GLT), Inc. was founded in 2000 to develop LED-based edge lighting technology for the latest generation of flat panel displays. GLT offers the world's most efficient LED-based edge lighting technology as well as advanced light extraction technologies and improved manufacturing processes to provide backlighting packages for LCDs, display graphics and general illumination applications that are thinner than ever for OEMs who need to meet increasing consumer demand for smaller, slimmer size with outstanding performance and more efficient light extraction. With four manufacturing facilities in the Far East, GLT is poised to deliver a better backlight at lower cost with faster turnaround.

More from Packaging Products & Equipment