High-Bond Tapes permanently stick to any substrate.
Press Release Summary: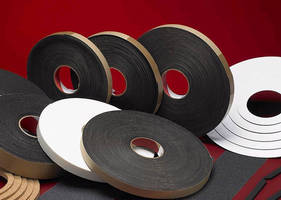 Tapes are available as PHB1000, 2-sided clear acrylic; PHB2000, 2-sided gray acrylic; PHB3000, 2-sided translucent high-bond acrylic; PHB5100G, 2-sided gray closed-cell foam; PHB5100B general purpose black closed cell; and PHB5100W white closed cell tape. All feature weather-resistant design and minimize/dampen vibration, sound, and shock. Tapes can be ordered in various widths, thicknesses, and lengths as well as die cut for custom shapes.
---
Original Press Release:

Pres-On High Bond Tapes Streamline OEM Assemblies



Rugged, Extremely Strong Tapes Permanently Bond to Virtually Any Substrate to Replace Rivets and Welds for Sleeker Product Designs

ADDISON, IL, January 28, 2009 - Pres-On, a leader in industrial adhesive products, today introduced its PHB line of high bond acrylic foam tapes featuring an extremely durable, weather-resistant design for use in a variety of OEM applications, ranging from automotive and marine to signage and construction of windows and doors. The new tapes all feature excellent weathering properties and exhibit the ability to reduce and dampen vibration, sound and shock.

The foam tapes are available in six unique lines:

o PHB1000: a two-sided clear acrylic tape that will bond to glass and other clear materials. It has outstanding weathering properties and will not stain or harden with age. Flexible and compressionable, it is for use in auto trim, signage and other demanding OEM applications where it can replace mechanical fasteners and welds.

o PHB2000: a two-sided gray acrylic tape that bonds to most clean, dry and oil-free substrates for use in window muntin bar attachment, auto trim and skin-to-frame tasks. It resists sub-zero temperatures, moisture, stains and aging.

o PHB3000: a two-sided translucent high bond acrylic tape that will bond to glass and other clear materials, as well as virtually any other substrate. Engineered for auto trim attachment, it is approved to GM specification GM3802M TYPE 14, Chrysler specification MS-CH59-C, and Ford specification WSB-M3G138-B.

o PHB5100G: a two-sided gray closed cell foam tape that will compensate for differential thermal expansion or contraction when used for auto trim attachment, or for aerospace, marine, window and door, and construction jobs. Its continuous bond distributes stress over the entire substrate and allows for faster, more cost-effective assembly.

o PHB5100B: a general purposed black closed cell tape that is resistant to high temperatures for bonding prior to paint processing.

o PHB5100W: similar to PHB5100B but in white.

All six tapes can be ordered in several varieties of widths, thicknesses and lengths, as well as die cut for custom shapes.

For more information, please visit www.preson.com. Or call 800-323-7467.

ABOUT PRES-ON

Founded in 1949, Pres-On is a leading manufacturer of adhesive coating, coated foam tape, mounting substrates, gaskets and cap liners serving customers worldwide in the industrial and consumer markets. Pres-On is based in Addison, Illinois.

®2009 Pres-On. All product names and trademarks belong to their respective owners. Information in press releases, including without limitation product, specifications, and contact information, is current on date of the release, and is subject to change without notice. Reseller prices may vary.

Pres-On | 39 Factory Road | Addison | IL | 60101

More from Electrical Equipment & Systems