High-Accuracy Handheld LCR Meter has 4-terminal configuration.
Press Release Summary: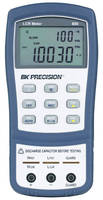 Providing test frequencies up to 100 kHz, selectable test signal levels, and 4-terminal socket, model 880 measures inductance, capacitance, and resistance with basic impedance accuracy to 0.1%. Auto ranging function, single-push auto detect mode, as well as data recording, tolerance sorting, and relative mode functions are also standard. DC resistance measuring is also offered, and dual display offers respective 40,000- and 10,000-count resolutions for primary and secondary measurements.
---
Original Press Release:

B&K Precision Offers 100 kHz Handheld LCR Meter with Bench Performance



Provides 0.1% Accuracy and 4-Terminal Configuration with Auto Detect Mode



YORBA LINDA, CA -- B&K Precision today announced the expansion of its current 878B and 879B 40,000-count handheld LCR meters with the addition of a new 100 kHz model, the 880. This new portable LCR meter can measure inductance, capacitance, and resistance with 0.1% basic impedance accuracy. Offering many features typically found only in bench LCR meters, the 880 provides test frequencies up to 100 kHz, selectable test signal levels, and 4-terminal measurement capabilities. With a fast auto ranging function, convenient single-push auto detect mode, and versatile functions such as data recording, tolerance sorting, and relative mode, the 880 is suitable for characterizing components in the field or laboratory environments.



Four-terminal shielded configurations can help minimize measurement errors and improve measurement accuracy. Using 4-terminal Kelvin test leads can help mitigate the effect of lead impedances and contact resistances. The 880 offers a 4-terminal socket with separate sensing and current leads plus a guard terminal.



The 880 features a dual display with 40,000-count and 10,000-count resolution for primary and secondary measurements, respectively. Selectable test frequencies include 100 Hz, 120 Hz, 1 kHz, 10 kHz, and 100 kHz along with selectable test levels of 0.3 Vrms, 0.6 Vrms, and 1 Vrms. In addition, the LCR meter provides DC resistance measurement capability.



Whereas many manufacturers of LCR meters typically only include a few accessories as standard, 880 users can expect a full set of useful accessories supplied with the instrument. Standard accessories include an AC adapter with rechargeable 9 V battery, mini USB cable, shorting plate, banana-to-alligator test leads, Kelvin clip test leads, and additional tweezer accessory for convenient measurement of SMD components.



Available immediately, B&K Precision's 880 100 kHz handheld LCR meter comes with a 3-year warranty and is listed at a price of $399.



For additional technical specifications, accessories, and support documents, visit:

http://www.bkprecision.com/products/component-testers/880-dual-display-handheld-100khz-lcr-meter-with-esr.html



About B&K Precision

For more than 60 years, B&K Precision Corporation has been building a reputation for excellence in the design and manufacture of reliable and cost-effective test and measurement instruments. The company's products are used in a wide range of applications including design, research and development, production line testing, industrial maintenance, and electronic field service. B&K Precision test and measurement instruments are standard equipment in a large number of universities and technical schools which train future engineers and technicians. B&K Precision was founded in 1951 and is headquartered in Yorba Linda, California.



Contact:

James Schada

jschada@bkprecision.com

(714) 921-9095

More from Chemicals & Gases