HF RFID Reader IC targets 13.56 MHz reader applications.
Press Release Summary: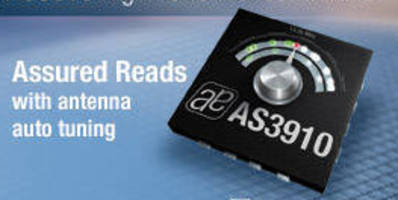 With ISO 14443 A & B data framing on chip and automatic modulation depth adjustment, AS3910 HF RFID Reader IC enables read ranges of up to 30 cm with no need for any external booster circuitry and suits ISO 15693 applications. It delivers 1 W of output power from 3.3 V supply and antenna auto-tuning feature makes AS3910 suited for portable applications and products using PCB antennas.
---
Original Press Release:

austriamicrosystems Strengthens its Line of Market Leading RFID Reader Products with the New HF RFID Reader IC for 13.56MHz Reader Applications



The AS3910 assures reads in challenging environments for HF RFID Reader systems, through patent pending antenna auto-tuning and best in class power output

Unterpremstaetten, Austria (September 9, 2009) - austriamicrosystems (SIX: AMS), a leading global designer and manufacturer of high performance analog ICs for communications, industrial, medical and automotive applications today launched the AS3910 HF RFID Reader IC. Best in class power efficiency and antenna auto-tuning means
the AS3910 is perfectly positioned for portable applications and products using PCB antennas.

The AS3910 HF RFID Reader IC delivers 1W of output power from a 3.3V supply, this is 4x the nearest competitor. Combined with patent pending antenna auto-tuning, the AS3910 is ideal for challenging environments. Auto-tuning on chip means there is no longer the need for manual tuning of the antenna in production or in the field. With the possibility to dynamically auto tune 10% of the resonant frequency, the user can spend less time on system issues, where there is a lot of metal in the field. This allows the customer to get to market quicker and focus more effort on building their unique IP around the AS3910.

Including ISO 14443 A & B data framing on chip and incorporated automatic modulation depth adjustment allows even a relative novice to become an implementer of RFID. The best in class power efficiency and true differential drive means the AS3910 is suitable for ISO 15693 applications. The AS3910 enables read ranges of up to 30cm with no need for any external booster circuitry.

"The AS3910 changes the game in the HF RFID Reader arena," said Bruce Ulrich Director of Marketing Consumer Business at austriamicrosystems. "The solution is perfect for experts and non consumers alike".

The AS3910 is the latest high performance RFID Reader IC from austriamicrosystems. The RFID Reader product lines leverage over 15 years of RFID Reader experience. Testament to this, are market firsts such as the UHF 20dBm internal PA and HF antenna auto-tuning on chip. For experts, and novices alike, austriamicrosystems RFID Reader products are designed to enable non-experts to easily become implementers of RFID.

The AS3910 is available now in QFN 32 5x5. To order samples, or for more details on this game changing product come and visit austriamicrosystems at www.austriamicrosystems.com/HF_RFID_Reader/AS3910

About austriamicrosystems

austriamicrosystems is a leading designer and manufacturer of high performance analog ICs, combining more than 27 years of analog design capabilities and system know-how with its own state-of-the-art manufacturing and test facilities. austriamicrosystems leverages its expertise in low power and high accuracy to provide industry-leading
customized and standard analog products. Operating worldwide with more than 1,000 employees,austriamicrosystems focuses on the areas of power management, sensors & sensor interfaces and mobile infotainment in its markets Communications, Industry & Medical and Automotive, complemented by its Full Service Foundry activities. austriamicrosystems is listed on the SIX Swiss Exchange in Zurich (ticker symbol: AMS).

For more information, please visit www.austriamicrosystems.com


More from Chemicals & Gases