Hexagonal Pole Magnets are suited for workholding applications.
Press Release Summary: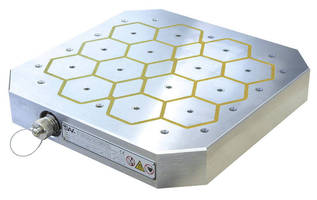 Featuring 6-sided pole configurations, HEX Pole Milling Magnets are mounted on table of machining centers via clamps or palletized to referencing system by use of plug and socket power connection. Top tooling is available in both fixed and flexible pole configurations allowing 5-axis access to the work piece. Designed with an industrial grade metallic filled top plate, magnets are fully sealed to prevent any short circuiting. Magnets are available in 3 models with multiple sizes.
---
Original Press Release:

New Hex Pole Workholding Magnet Handles Small and Large Parts Alike



New Hexagonal Pole Magnets Designed to Securely Hold Material in Place for Precision Manufacturing and Milling

South Windsor, CT (November 9, 2009) - A new line of electro-permanent workholding magnets designed to accommodate a wide range of material sizes and shapes for milling operations has been introduced by SAV North America. HEX Pole Milling Magnets deliver greater per square inch holding power with six-sided (hexagonal) pole configurations versus typical square shaped magnets to securely hold large and small products alike.

HEX Pole Milling Magnets are mounted on the table of machining centers via clamps or palletized to a referencing system by use of a plug and socket power connection. Top tooling is available in both fixed and flexible pole configurations allowing five axis access to the work piece. Designed with an industrial grade metallic filled top plate which prevents chips from adhering to the top plate, HEX Pole Milling Magnets are fully sealed to prevent any short circuiting due to coolant leakage from machines during the cutting process ensuring a consistent and strong magnetic hold.

HEX Pole Milling Magnets are available in three models with multiple sizes allowing users to choose the right size for their parts in milling applications. The HEX 220 HP (High Performance) and HEX 220 SP (Standard Performance) models operate on 220 volt service and are ideal for center driven work pieces. The HEX 220 HP measures 3.9" wide x 6.3" long, while HEX 220 SP models are available in two sizes, 9" x 9" and 12" x 12". The larger HEX 480 model operates on 480 volt service and is designed with an extended base for hold down clamps. This model is available in a variety of sizes ranging from 10" wide x 14" long up to 20" wide x 30" long.

These electro-permanent type magnets required power only to turn them "on" and "off" and their holding ability is not affected by power failure. The HEX 220 HP has a nominal holding force of 1,035 pounds per pole while the HEX 220 SP and HEX 480 models have 900 pounds per pole. An array of top tooling pole shoes and side stops to better align the material with the cutting tool are also available.

SAV is a designer, manufacturer and supplier of workholding solutions. Incorporating mechanical, magnetic and hydraulic components, SAV meets the demanding requirements of today's manufacturing environment. Whether it is standard or custom engineered products, SAV is "The Source" for workholding solutions. SAV has a strong emphasis on innovation and sustains a high level of operational excellence from development to quick delivery and commissioning of products.

For more information on HEX Pole Milling Magnets, contact SAV North America, 250 Nutmeg Road South, Suite N, South Windsor, CT 06074. Toll-free: 888-628-8796. Visit SAV's website at: www.sav-workholding-na.com

More from Electrical Equipment & Systems