Heterogeneous Catalyst Kit offers 40 different catalysts.
Press Release Summary: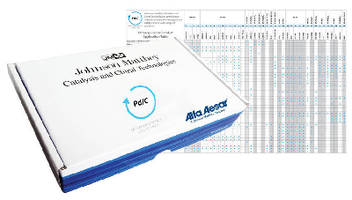 Providing instant availability to 40 different types of catalysts, Heterogeneous Catalyst 40 Sample Kit covers complete range of catalytic reactions involving hydrogen. Precious metal based products have optimized combination of metal and support. All samples are 5 g size and individual replacements are available. Supplied with applications table, kit is suited for screening and research projects.
---
Original Press Release:

New Heterogeneous Catalyst Kit



Alfa Aesar is pleased to announce the new Heterogeneous Catalyst Kit - developed by Johnson Matthey Catalysis and Chiral Technologies - is now available. The new Heterogeneous Catalyst Kit provides instant availability to 40 different types of catalysts. These products are based on precious metals and have an optimized combination of metal and support for excellent performance.



The effective metal-support combination of the new Heterogeneous Catalyst 40 Sample Kit covers a complete range of catalytic reactions involving hydrogen. An application table provided in each kit enables the user to select appropriate catalysts for screening applications.



More about the kit and the individual catalysts included:



•  All samples are 5g size

•  Individual replacements are available

•  Excellent tool for screening and research projects

•  All catalysts supplied in the kit are commercially available

•  The precious metal based products have an optimized combination of metal and support offering superior catalytic performance

•  Extensive applications table is included with the kit

•  Customized solutions and technical assistance available from global support teams



Also available is the Mini Advanced Homogeneous Coupling Kit:



Designed for challenging C-C coupling reactions, amination, alpha ketone arylation, etc., using sterically hindered substrates. This kit includes a Catalytic Reaction & Coupling Reference Guide and contains 1 gram samples.



Both kits are available globally and distributed through Alfa Aesar, a Johnson Matthey Company. The company can be contacted for orders and quotation of these products. If you would like to place an order visit http://www.alfa.com/en/catalyst-kits-components



About Alfa Aesar

Alfa Aesar, a Johnson Matthey Company, is a leading international manufacturer and supplier of research chemicals, metals and materials.  With over 46,000 products listed in its catalogs, Alfa Aesar is the single source for customers' needs for chemicals and materials in sizes for research and scale up.  The Alfa Aesar catalog carries materials for biological research, organic compounds, high purity inorganics, pure elements, alloys, precious metal catalysts, AA/ICP standards and more.  Alfa Aesar has sales offices and distribution facilities throughout North America, Europe and Asia and a distributor network covering the globe.



Mrs Jan Back

Global Marketing Communications Specialist

1010 Cambourne Business Park

Cambridge, Cambridgeshire, CB23 6DP

M: +44 (0)7773 765456

T:  +44 (0)1223 598387

More from Electrical Equipment & Systems