HessAmerica's PORTAL EXIT Receives Special Citation in 2018 Architectural Products Product Innovation Awards in The Hospitality Category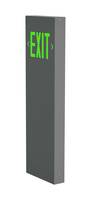 Gaffney, South Carolina, 2018 — PORTAL EXIT from HessAmerica was awarded a Special Citation in the Hospitality category in Architectural Product magazine's eighth annual Product Innovation Awards (PIA). The judges commented, "It's a very subtle and unobtrusive design, yet effective in nature". The PIA competition determines and honors innovation in the development and advancement of buildings-related products ranging from cladding systems to interior finishes.
Terry O'Toole, General Manager for HessAmerica, commented, "We are pleased to be recognized for bringing the first commercially available outdoor-rated EXIT bollard to market in North America. The PORTAL EXIT was developed to provide a solution for outdoor applications where none currently exists".
The PORTAL EXIT bollard is a ground mounted exit signage solution for outdoor applications where wall or ceiling mounting methods are not possible or desired. The architectural wet-location LED exit bollard provides visual guidance towards exits for exterior settings such as courtyards, patios, roof-top gardens, and swimming pool decks, or other spaces requiring wayfinding. The slender rectangular bollard is extruded aluminum and includes refined styling details such as a beveled top, minimized visible hardware, and flangeless mounting.
PORTAL EXIT is available with green or red lettering to meet local or state codes, is CSA Certified for Wet Locations, and complies with UL924 standards for exit signs.
About Architectural Product Magazine Product Innovation Awards: AP's Product Innovation Awards determine and honor innovation in the development and refinement of buildings-related products that range the gamut from cladding systems to interior finishes. Product judges, comprising a diverse body of architects, interior designers, lighting designers, and A/E/C writers, were asked to numerically grade each entry and comment on distinct aspects of the product they found innovative or intriguing.
Contact Information: Literature and specifications for PORTAL EXIT, or other original Hess outdoor architectural lighting products, are available by contacting authorized HessAmerica professional, independent lighting-sales representatives at www.hessamerica.com/ About_us/Representative/. Website: www.hessamerica.com.
Editor, For More Information, Please Contact:
Bill or Nancy Schoenfisch
Schoenfisch Incorporated
336 County Highway 24
Richfield Springs, New York 13439
315-858-8393/Phone
315-858-9635/Fax
primages@aol.com/E-mail
More from Cleaning Products & Equipment