Hermetic Feedthroughs offer safe air side connectivity.
Press Release Summary: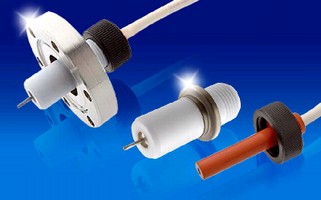 Available in 40 kV and 50 kV, Hermetic High Voltage Feedthroughs each have 10 A current carrying capacity. Units include weldable, ConFlat®, and ISO flange-mounted installation configurations. Corona-resistant cable assembly utilizes molded silicone body and silicone insulated cable in lengths of 8 ft. Built for extreme conditions, feedthroughs feature temperature capability of -269 to 450°C and are guaranteed to be leaktight to leak rate less than 1 x 10
-10
atc-cc/sec.
---
Original Press Release:

New 40 & 50 kV Feedthroughs Offer Safe Air Side Connectivity



Laurens, SC, December 15, 2006 - CeramTec North America Corporation (CTNA) has launched a new family of hermetic high voltage feedthroughs that have mating air side cable assemblies. The offering includes a 40 kV feedthrough and a 50 kV feedthrough, which each have a 10 Amp current carrying capacity.

These high voltage feedthroughs offer a much smaller solution to fluted high voltage feedthrough designs and have the added safety of the air side cable assembly, which has a threaded connection. The standard offering includes weldable, ConFlat® and ISO flange mounted installation configurations. The corona resistant high voltage cable assembly, which is required to achieve the 40 or 50 kV rating, utilizes a molded silicone body and silicone insulated cable. The standard length for these cable assemblies is 8' but custom lengths are available. The use of silicone insulating grease is recommended for the air side cable assembly to feedthrough interface to help assure air exclusion. High voltage conditioning is also recommended for these feedthroughs.

Like all of CeramTec's Ceramaseal® products these new high voltage feedthroughs are built for use in extreme conditions. The feedthrough has a temperature capability of -269°C to 450°C and is guaranteed to be leak tight to a leak rate < 1 x 10-10 atm-cc/sec (He).

A subsidiary of CeramTec AG, CeramTec North America is a leading manufacturer and distributor of custom-engineered, high-tech ceramics with headquarters in Laurens, S.C. CeramTec's ISO 9001:2000 processes create technical ceramic and Ceramaseal® products and subassemblies with exceptional precision, thermal stability, performance and service life. Its products are specified across a broad spectrum of applications, including electrical, electronic, structural, textile, automotive, metal cutting tools and hermetic systems.

CeramTec is entering its second century of ceramic manufacturing and has additional manufacturing facilities in Asia and Europe, making it one of the premier technical ceramic companies in the world. The company's website is www2.ceramtec.com. Employment in North America is approximately 200 people. CeramTec employs nearly 2,500 people at all sites globally.

Related