Hendrickson Launches Air Disc Brake Wear Indicator Tool at Heavy Duty Aftermarket Week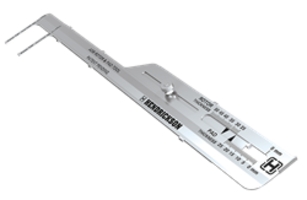 LAS VEGAS, Nevada - Hendrickson Trailer Commercial Vehicle Systems debuts its new air disc brake (ADB) wear indicator tool at Heavy Duty Aftermarket Week in Las Vegas. This convenient, patent-pending tool allows maintenance personnel to check brake pad and rotor thickness without removing the wheel or the brake pads from the caliper.
"Regularly inspecting the thickness of your brake pads and rotors is important for maximizing the performance and life of your air disc brake system," says Greg Dvorchak, applications engineer for Hendrickson's wheel-end and braking systems business unit. "Our new tool makes this crucial maintenance practice convenient, easy and quick."
Hendrickson will conduct brief demonstrations in booth 321 at Heavy Duty Aftermarket Week to educate attendees on how to use the new ADB wear indicator tool. Guests will have a chance to receive a free tool while supplies last.
Air disc brake maintenance training is available through Hendrickson's online education portal at www.Hendrickson-Academy.com. For additional information on maintenance intervals and Hendrickson's recommended inspection cycles, visit www.maxx22t.com or contact Hendrickson Trailer Commercial Vehicle Systems in Canton, Ohio, toll free at 866-RIDEAIR (743-3247).
Hendrickson, a Boler company, is a leading global manufacturer and supplier of medium- and heavy-duty mechanical, elastomeric and air suspensions; integrated and non-integrated axle and brakes systems; tire pressure control systems; auxiliary lift axles systems; parabolic and multi-leaf springs; stabilizers; and bumper and trim components to the global commercial transportation industry. Hendrickson, based in Itasca, Ill., USA, continues to meet the needs of the transportation industry for more than 100 years. Visit Hendrickson at www.hendrickson-intl.com.
More from Architectural & Civil Engineering Products