Hendrickson Broadens PRIMAAX EX Applications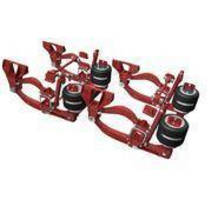 WOODRIDGE, Ill. - Officials of Hendrickson Truck Commercial Vehicle Systems recently announced further proliferation of PRIMAAX® EX heavy-duty vocational rear air suspension at numerous OEMs. "As PRIMAAX EX grows in popularity, so does customer demand for new configurations, such as single- and tridem-axle variants, multiple ride heights, and disc brake-compatibility," stated Carmen Cardillo, marketing manager for Hendrickson.

Featuring superior durability, ride, stability and suspension articulation, PRIMAAX EX was designed specifically for the rigorous demands of vocational, severe, and heavy-haul applications. The system can be packaged with both drum and disc brakes, and is approved for 100% off-road usage to help conquer challenging terrains.

PRIMAAX EX has been in the field since 2008, and has been proven in some of the most severe environments. The PRIMAAX EX system incorporates highly durable structural beams that integrate the cross beam attachment points for greater reliability, resulting in a maintenance-free connection that forms a rigid torsion system for improved stability and control for both off-road and heavy-haul applications.

In early 2011, PRIMAAX EX will be available in 40,000 and 46,000 lb. disc brake configurations on Peterbilt Motors Company's 320 low cab forward model.

"We are excited to announce the expansion of suspension options for the Peterbilt Model 320 to include the Hendrickson PRIMAAX EX in 40,000 lb and 46,000 lb ratings available with air disc brakes for refuse applications. With the frequent stop / start cycle common in the refuse industry, the PRIMAAX EX suspension with air disc brakes, especially when combined with the Model 320 Hybrid Hydraulic Launch Assist, provide a significant advantage extending brake life, reducing operating cost, down time and maintenance cost to help our customers operate as efficiently and profitably as possible," stated Charles Cook, product marketing analyst for Peterbilt.

Kenworth Truck Company and Volvo Trucks North America recently launched new disc brake options for PRIMAAX EX.

In January 2011, Kenworth published databook sales codes for PRIMAAX EX 46,000 lb. tandem and 69,000 lb. tridem disc brake configurations. The new PRIMAAX EX disc brake options are available on a variety of chassis including the C500, T800 and W900 models. These new configurations are in addition to the current drum brake options already available in 46,000 lb., 52,000 lb., and 69,000 lb. capacities at Kenworth.

Kenworth also is releasing a single-axle version of PRIMAAX EX, which will be available on the T270 and T370 4x4 chassis models. The suspension will be available in single-axle ratings of 23,000 lbs. and 26,000 lbs.

Disc brake configurations of PRIMAAX EX are also now available on Volvo trucks. The new options can be spec'd in tandem and tridem configurations on both the VNL and VHD chassis models.

PRIMAAX EX includes optional arched longitudinal torque rods that provide the clearance necessary for disc brakes. Hendrickson has plans to launch disc brake configurations of PRIMAAX EX at additional OEMs later this year to complement current drum brake offerings.

At International, the WorkStar® chassis will now be available with PRIMAAX EX in 69,000 lb. capacity tridem configurations. PRIMAAX EX has been available at International in 23,000 lb. single-axle and 46,000 lb. tandem-axle configurations on the WorkStar and PayStar® truck models, but the availability of the 69,000 lb. capacity marks the launch of the first Hendrickson tridem configuration on International trucks.

"PRIMAAX EX has been in popular demand for various demanding work truck applications, including refuse, dump, oil field, logging, mixer, and many other on- and off-highway applications," stated Sean Coleman, director of sales and marketing for Hendrickson. "The demand continues to grow, because of the versatility of the suspension design, Hendrickson has been able to take the base configuration of PRIMAAX EX and expand into niche applications that have unique requirements."

Featuring a robust frame hanger and unique torque rod configuration, the PRIMAAX EX optimized suspension geometry delivers over twice the roll stiffness of other vocational rear air suspensions and greater control during lane changes, highway ramp operation and tight or twisting road maneuvers.

Large-volume air springs smooth the ride and reduce noise, vibration and harshness to the cab, chassis, and body equipment, for less wear and tear on both the driver and equipment.

Delivering up to 12.5 inches of diagonal articulation, PRIMAAX EX helps improve traction and provide greater off-road mobility, while up to 10.75 inches of ground clearance enhance maneuverability over rough terrain.

For additional information, visit www.hendrickson-intl.com, or contact Hendrickson Truck Systems Group at 630-910-2800.

Hendrickson, a Boler company, is a premier, global manufacturer and supplier of truck, tractor, bus and recreational vehicle suspensions and heavy-duty springs; trailer suspensions, controls and nonintegrated axles; truck and trailer lift axles, and bumpers and trim components to the commercial transportation industry. Hendrickson, based in Itasca, Ill., USA, continues to meet the needs of the transportation industry after more than 95 years. Visit the Hendrickson Web site at www.hendrickson-intl.com.