Helping Customers Overcome Challenges of Going Deeper While Aiming Higher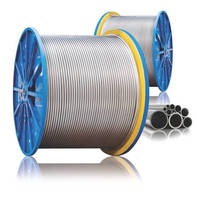 "We help you get there," is the new theme from Sandvik that will be featured at this year's Subsea Tieback Forum and captures the company's commitment to help customers overcome challenges in the demanding oil and gas environment.



Subsea tiebacks are an increasingly important component of oil gas production which facilitate linking new wells to existing production platforms. Specification, development and installation of the tiebacks have to be carefully considered in light of these more remote and deeper wells which pose higher pressures and corrosion threats to the tiebacks themselves. Environmental conditions of the wellhead and the presence of corrosive elements such as hydrogen sulphide, chlorides and carbon dioxide are important to consider in achieving resistance to localized corrosion particularly pitting, crevice corrosion and stress corrosion cracking during the material selection process.



"We know the increasing demands that these deeper subsea oil and gas production requirements are placing on vital subsea tiebacks so it is important to extend the life of the production infrastructure," said Leandro Finzetto of Sandvik.



Sandvik seamless tubular materials for subsea tiebacks are installed in some of the most remote locations throughout the world, in challenging and demanding applications, turning what was once regarded as uneconomical deposits into cost-effective reality.



Sandvik Materials Technology has invested significantly in setting up its global oil and gas team to work closer with its customers worldwide.  Sandvik Houston is strategically present to support and meet the customers' challenges.



"Our new duplex materials will enable even longer seamless continuous subsea tiebacks as we continue to develop new, stronger, better corrosion resistance, enabling lighter materials in order to optimize the performance over many years," concluded Leandro Finzetto.



Examples of Sandvik's advanced corrosion resistant alloys and other high performance materials for tube, pipe, wire, welding consumables and powder-based hot isostatic pressed (HIP) components will be on display.



For further information on Sandvik Materials Technology visit the website: www.smt.sandvik.com



Sandvik Materials Technology    



Sandvik Materials Technology is a world-leading developer and manufacturer of products in advanced stainless steels and special alloys for the most demanding environments, as well as products and systems for industrial heating.









More from Computer Hardware & Peripherals