Helical-Bevel Screw Conveyor Drives have right-angle design.
Press Release Summary: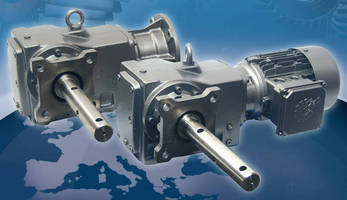 Compatible with standard CEMA mounting, right-angle helical-bevel gear Screw Conveyor Package allows end users to install gearboxes in confined spaces. Drives produce up to 42,480 lb-in. torque and up to 30 hp, depending on model, and each model operates on 95% efficiency level or greater. In addition to eliminating need for separate V-belt, products have UNICASE™ design, adjustable flange, and sealing system. Drives use either direct coupled gearmotor or NEMA C-face input design.
---
Original Press Release:

Right-Angle Helical-Bevel Screw Conveyor Drives



Waunakee, WI – NORD announces the addition of the helical-bevel gear series to its successful high-performance Screw Conveyor Package. The newly designed right-angle bevel products allow you to install gearboxes in confined spaces while maintaining the simplicity, reliability and efficiency of NORD's traditional gearmotors and speed reducers.



Standard Features

The right-angle bevel series is more compact compared to the existing parallel-helical Screw Conveyor Package. Its right-angle design is compatible with standard CEMA mounting. The three-hole tapered CEMA drive shaft offers easy mounting and removal. Its adjustable flange allows for multiple bolt patterns. It features an optimized sealing system that includes dual flouro rubber lip seals, grease impregnated packing seal, dual gap seals, material evacuation ports, a shaft material ditch and QuadrilipTM sealing.



The NORD right-angle bevel series uses either the direct coupled gearmotor or NEMA C-face input design, making it extremely efficient. The simplified design eliminates the need for a separate V-belt. Belted systems are costly and require additional parts, lowering drive performance. The NORD helical-bevel design provides optimal performance and decreases maintenance time and cost.



NORD helical-bevel Screw Conveyor drives produce torque levels ranging up to 42480 lb-in and powers up to 30 hp, depending on model. Each model operates on a 95 percent efficiency level or greater, maximizing productivity.



All NORD models include the UNICASE™ design. Speed reducer housings are constructed of one solid cast-iron piece containing the bearings and seal seats, which eliminates the need for splits or bolt-on carriers that can weaken the housing and allow oil leaks. This cast-iron design can withstand even the heaviest loads.



All NORD products are specially designed for protection against the harshest environmental condition. Some of our protective features include:



The AUTOVENT™ breather regulates airflow and controls pressure inside the gear case. It also protects bearings by blocking out environmental materials like water, dust and corrosives. Stainless steel protective paint protects against corrosion and increases durability. The internal housing is coated with a high-performance synthetic primer to lock in any residual casting sand and seal any imperfections.



ABOUT NORD

NORD was founded in 1965 to develop, produce, and market drive technology. NORD has successfully climbed to the second largest gearbox provider in the US, Canada, and the world. By doing so, we have reached nearly every global market. With 3000 employees and 35 assembly factories worldwide, sales and support is available in 60+ countries. This ensures short delivery times and services close to you. NORD supplies application-specific concepts and solutions; including but not limited to energy-saving drives. NORD provides wide range of products to meet your needs; such as gearboxes with torque ratings from 8.5 lb-in to 2,200,000 lb-in and electric motors with power ratings from 1/6 HP to 250 HP. In addition, the product line 1 / 2consists of high performance AC Vector Drives for panel mounted or motor mounted applications.



Company background

NORD was founded in 1965 to develop, produce, and market drive technology. As an industry leader ranking # 2 in the US & Canada and # 2 as the Global Leader, NORD reaches nearly all markets. With 2800 employees and 35 assembly factories worldwide, sales and support is available in 60+ countries. This ensures short delivery times and services close to you. NORD supplies application-specific concepts and solutions which include but are not limited to energy-saving drives. NORD provides a wide range of products to meet your needs with gearboxes ranging in torque ratings from 8.5 lb-in to 1, 770, 000 lb-in and electric motors rating in power from 1/6 HP to 250 HP. In addition, the product line consists of high performance AC Vector Drives and AC Drives for panel mount or distributed motor mount. www.nord.com



Getriebebau NORD GmbH & Co. KG

Rudolf-Diesel-Straße 1

22941 Bargteheide/Hamburg

Germany

Jörg NIERMANN

Phone: +49 45 32 / 2 89 -0

Fax: +49 45 32 / 2 89 -22 53

[email protected]

Powered by TCPDF ( www.tcpdf.org )