Heilind Electronics Now Stocking HARTING D-Subminiature Connectors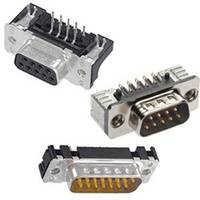 HARTING's line of D-subminiature connectors facilitates cable-to-board connectivity in a comprehensive range of manufacturing requirements.
WILMINGTON, MASS.- MARCH 08, 2018 Heilind Electronics, a leading global distributor of electronic components and authorized distributor for HARTING, has expanded its selection of industrial interconnects with the company's D-subminiature ("D-sub") connectors and accessories.
D-sub connectors have become the industry standard for cable-to-board connectivity, particularly in communication and data interfaces and in fieldbus profiles. To address the numerous applications using this versatile connector, HARTING offers a variety of PCB termination styles including press-in, solder, THR and SMT.
HARTING's D-sub connectors are available in straight, right-angled and right-angled/low profile contact configurations, as well as in crimp, solder, board mount and IDC (insulation-displacement contact) cable mount designs. The selection also includes IP67-rated waterproof connectors, filter connectors, high-density connectors and mixed connectors combining power, coaxial, high voltage, signal and pneumatic contacts in a single unit.
Complementing this line of connectors is a diverse assortment of D-sub hoods and accessories. These products are available in plastic and metal housings and offer up to IP67-level protection.
Visit Heilind's website for more information about HARTING D-Sub Connectors.
About Heilind Electronics
Heilind Electronics, Inc. (http://www.heilind.com) is one of the world's leading distributors of connectors, relays, sensors, switches, thermal management and circuit protection products, terminal blocks, wire and cable, wiring accessories and insulation and identification products. Founded in 1974, Heilind has locations throughout the U.S., Canada, Mexico, Brazil, Germany, Singapore, Hong Kong and China.
More from Test & Measurement