Height-Adjustable Workstations help minimize worker injury.
Press Release Summary: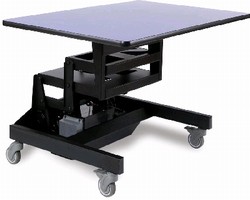 Offering payloads up to 250 lb, AdjusTable(TM) HD uses linear actuator to extend from 19.5-46 in. at 4 ips with press of button. Utilizing gas actuator, AdjusTable(TM) LT features float-in-hand adjustability with payloads up to 50 lb. Both accommodate locking hospital-grade casters for mobility. With optional On-The-Go Power(TM), which supplies 115 V at 300 W of continuous sine wave power, workstations offer up to 9 hr of cordless power for laptop, printer, or barcode scanner.
---
Original Press Release:

Accuposture Systems Wins New Product Of The Year With Adjus® Line Of Height-Adjustable Workstations



LAS VEGAS, - Dec. 2007 - Accuposture Systems, Ltd. has rolled out its new Adjus® series of height-adjustable workstations, winning "New Product of the Year" honors at the 2007 National Ergonomic Conference and Exposition. The Adjus® line features state-of-the-art ergonomic designs to help reduce worker injury and enhance productivity across such diverse workplaces as hospitals, factories and laboratories.

Developed through four years of design, sixteen prototypes, and extensive field-testing, the Adjus® design features three different configurations assembled out of an industrial powder-coated steel framework. All three configurations yield a 26.5'' range of motion in as little as two seconds, making the Adjus® system the fastest height-adjustable workstation on the market.

The AdjusTable(TM) HD workstation is based on a patent pending linkage in conjunction with a proprietary linear actuator. This allows for fast adjustable motion with payloads of up to 250 lbs. With the simple press of a button, the workstation extends from 19.5" to 46" in roughly 4" per second. In addition to being the fastest on the market, it is also has the lowest start height or 19.5". The AdjusTable(TM) LT workstation utilizes a proprietary gas actuator allowing fast, effortless, float-in-hand adjustability with payloads of up to 50 lbs.

Both AdjusTable(TM) workstation models come with an option for further functionality. Fully locking hospital-grade casters can be added to either model to make it fully mobile. Moreover, fully accessorized, the Adjus® system functions as a, self-contained power supplying workstation. With optional On-The-Go Power(TM), which supplies 115 volts at 300 Watts of continuous pure sine wave power, it allows the user up to 9 hours of cordless On-The-Go Power(TM) for testing equipment, laptop, printer, barcode scanner, etc. With easily accessible built-in power outlets, a fully drained On-The-Go Power(TM) system charges in as little as 7.5 hrs.

In addition to the AdjusTable(TM) HD workstation and the AdjusTable(TM) LT workstation, the AdjusCounter(TM) is a height adjustable countertop-mounting bracket. The AdjusCounter(TM) easily attaches to any wall and offers the same 26.5" range of motion as the AdjusTable(TM) workstation. It allows for height adjustability of any countertop and can be configured with two or more of its kind to make for an extended countertop unit. With proper mounting, the AdjusCounter(TM) has a payload capacity of 250 lbs.

The vast functionality of the Adjus® system is furthered by Accuposture's antimicrobial customized option. The standard work surface can be substituted with an antimicrobial work surface in conjunction with an antimicrobial chassis finish, making it ideal for sterile environments such as hospitals, labs, and kitchens.

Manufacturer's suggested retail price for all units starts at $ 1999. Accuposture Systems, Ltd. stands proudly behind its products, which are designed and built in the USA. Accuposture Systems, Ltd. is based in Bloomfield, CT. For more information, visit www.adjus.com.

More from Packaging Products & Equipment