Heavy-Duty Strapping is designed for demanding applications.
Press Release Summary: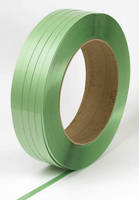 Measuring 1 in. wide and .050 in. thick, heavy-duty polyester strapping is capable of replacing 1 ¼ in. steel strapping in demanding applications. PET strapping accommodates needs of industries working with timber, steel plate, aluminum ingots, and in steel service centers.
---
Original Press Release:

Pac Strapping Provides Heavy Duty Strapping for Heavy Duty Jobs



Pac Strapping Products, Inc.  is launching a brand new line of heavy-duty polyester strapping.  Our new PET strapping is 1" wide and .050" thick and it does not take any prisoners. If you have been using 1 ¼" steel strapping for your most demanding applications, you may be able to replace it with our stronger and longer-lasting heavy-duty polyester strapping.



Industries needing stronger strapping include those who work with timber, steel plate, aluminum ingots, and in steel service centers. Working with these materials isn't for the faint of heart; in fact the fatality rate in logging is 21 times higher than the national average. Therefore, while heavy-duty strapping isn't the only factor in keeping timber workers safe, it does play a major role.



It is important to remember that no matter what you are using strapping for, it is critical that you choose the right strapping to get the job done safely. That is why you should rely on PAC to help you pick your strapping no matter what you handle. We always put the safety of our customers first.



For more information, please visit our website www.strapsolutions.com or call 1-800-523-7752.