Heavy Duty Slides feature self-lubricated bearings.
Press Release Summary: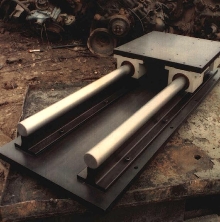 Linear Slides are designed for harsh environments and heavy load applications. Simplicity bearings have Frelon(R) bearing surface, which eliminates metal-to-metal contact, absorbs vibrations and shock loads, and eliminates need for external lubrication. There are no mechanical components to become locked or gall shafting. Slides withstand temperatures from -400 to 500 deg F. Standard sizes range from 1/2 to 2 in. shafting and lengths up to 96 in.
---
Original Press Release:
Heavy Duty Slides for Heavy Duty Applications

Linear Slides for Harsh Environments Featuring Simplicity(TM) Bearings

Rockford, IL --- - Pacific Bearing's expanded line of linear slides are designed to stand up to the harshest environments and heaviest loaded applications in the world. Fiberglass manufacturing and processing, stone cutting and quarry applications, auto manufacturing facilities, welding and assembly lines, foundries, and machine tools are only some of the many areas using Simplicity linear slides.

At the heart of the slide are the Simplicity self-lubricated bearings that have a Frelon® bearing surface that increases load capacity to over 5 times that of traditional rolling element bearings. The bearing material eliminates metal-to-metal contact, absorbs vibrations and shock loads, eliminates the need for external lubrication, and provides exceptional performance in contamination. It wipes the shafting clean as it travels and by transferring material to the shaft surface, creates a truly self-lubricating condition. Any particulate that migrates into the bearing is embedded into the bearing material. There are no mechanical components to become locked or gall the shafting. In addition they can withstand temperatures ranging from -400°F to +500°F.

Standard sizes available range from 1/2" to 2" shafting and standard lengths up to 96". They are also available in both low and standard heights, with or without bottom plates, end plates, or ball screws. NEMA standard motor mounts and hand cranks options can be easily added. Custom configurations have been made to meet many specific application needs.

Pacific Bearing is the rapidly growing manufacturer of Simplicity self-lubricating bearings, ceramic-coated Feather Shafting & Rails(TM) revolutionary 2 piece Dolphin Guides(TM) , Redi-Rail(TM) linear guides, and Hevi-Rail(TM) heavy duty bearing systems. For more technical or pricing information, contact our Inside Sales or Sales Engineering Department at 800-962-8979.

Mailing Address: P.O. Box 6980 Rockford, IL 61125

Location: 6402 Rockton Road; Roscoe, IL 61073

815-389-5600; 800-962-8979; FAX: 815-389-5790 ; www.pacific-bearing.com
More from Fluid & Gas Flow Equipment