Heavy-Duty Diesel Engine Oil helps increase fuel economy.
Press Release Summary: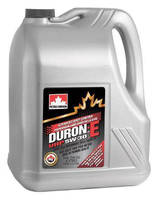 Full-synthetic, low-viscosity DURON™-E UHP 5W-30 minimizes sludge and piston top groove deposits to help maintain like-new engine conditions and subsequently promote fuel economy. Made up of 99.9% pure base oils, composition helps product maintain its properties longer and is important in preventing oxidative thickening and viscosity breakdown. Product meets performance requirements of ACEA European Service Categories E6, E7, and E9 as well as the API Service Categories CJ-4/SN.
---
Original Press Release:

Petro-Canada Lubricants' New DURON(TM)-E UHP 5W-30 Heavy Duty Engine Oil Delivers Both Fuel Economy and Engine Protection



Latest addition to the DURON family can deliver up to 2x* better engine protection and 4%** better fuel economy



MISSISSAUGA, ON – Petro-Canada Lubricants Inc., a Suncor Energy business, has launched its newest product - DURON™-E UHP 5W-30.  It is an ultra-high performance full synthetic low viscosity heavy duty diesel engine oil (HDEO) that can deliver up to 2x* better engine protection and 4%** better fuel economy.



Low viscosity HDEOs can offer significant fuel economy benefits, which can help in reducing overall fuel costs for fleets.  However, it is crucial to ensure that the durability of the engine is not compromised.  Engine protection was at the core of DURON-E UHP 5W-30's product design, and this is demonstrated in the product's ability to deliver exceptional results in the industry's top engine tests.  This level of engine protection performance is further supported by field tests that demonstrate even better protection and oil drains than an SAE 15W-40 HDEO.



In addition to exceptional engine protection, DURON-E UHP 5W-30 has been proven to deliver up to 4%** better fuel economy as supported by the results of the industry recognized SAE J1321 Type II Fuel Consumption Test.



"Fuel savings can be achieved in a low viscosity engine oil such as a 5W-30; however, we know that reliability and uptime remain critical in keeping fleets moving," says Barnaby Ngai, category portfolio manager, transportation oils, Petro-Canada Lubricants. "The introduction of DURON-E UHP 5W-30 is an example of Petro-Canada Lubricants' dedication to providing fleets with solutions that not only save money, but maximize the uptime and reliability of their operations where no compromise can be made."



DURON-E UHP 5W-30 carries a full suite of approvals from major global OEMs such as MTU, MAN, Cummins, Detroit Diesel, Volvo, Mack and many others.  It also meets performance requirements of ACEA European Service Categories E6, E7 and E9, as well as the API Service Categories CJ-4/SN.



What's behind the technology of DURON-E UHP 5W-30?

Like many of Petro-Canada Lubricants' advanced products, DURON-E UHP 5W-30 is made up of our 99.9% pure base oils, which helps the product maintain its fresh oil properties longer and plays an important role in preventing oxidative thickening and viscosity breakdown. Ultra pure, consistent quality base oils are key to DURON-E UHP 5W-30's ability to minimize sludge and piston top groove deposits, thereby maintaining "like new" engine conditions.



Availability

DURON-E UHP 5W-30 will be available across Europe and North America as of November/ December 2014, and is offered alongside a complete family of DURON products trusted on and off the road by fleets in over 80 countries worldwide. For more details on product availability in a specific region, please contact an authorized Petro-Canada Lubricants Distributor or a Petro-Canada Sales Account Manager.  



For more information or to place an order, please visit http://lubricants.petro-canada.com/en-gb/our-products/brands/duron.aspx.  To see DURON-E UHP 5W-30 in action, view the video: https://www.youtube.com/watch?v=yIXJ8RpvPLw&index=1&list=UUBzPf9R8JyWCBJ10mkro52A.



About Suncor Energy

Suncor Energy is Canada's leading integrated energy company. Suncor's operations include oil sands development and upgrading, conventional and offshore oil and gas production, petroleum refining, and product marketing under the Petro-Canada brand. A member of Dow Jones Sustainability indexes, FTSE4Good and CDP, Suncor is working to responsibly develop petroleum resources while also growing a renewable energy portfolio. Suncor is listed on the UN Global Compact 100 stock index and the Corporate Knight's Global 100. Suncor's common shares (symbol: SU) are listed on the Toronto and New York stock exchanges.



About Petro-Canada Lubricants Inc.

Petro-Canada Lubricants, a Suncor Energy business, blends and packages more than 350 different lubricants, specialty fluids and greases that are exported to more than 80 countries on six continents. Petro-Canada Lubricants specializes in offering customers products and services proven to maximize equipment performance, productivity and overall savings. From heavy duty engine oils to hydraulic fluids, automatic transmission fluids and gear oils and greases - Petro-Canada Lubricants is a one-stop solution to a world of needs.



Disclaimer:

* Based on results from the Daimler OM 646 LA industry recognized test.

** Fuel economy results are based on the generally accepted and industry recognized SAE J1321 Type II fuel consumption test. Comparison of fuel economy is relative to DURON-E 15W-40, and in combination with TRAXON™ Synthetic 75W-90 (relative to a TRAXON 85W-140) gear oil. Actual results are dependent on external factors including, but not limited to: driving terrain, weather conditions, tire pressure and severity of operating conditions.



Petro-Canada is a Suncor Energy business ™Trademark of Suncor Energy Inc. Used under licence.



CONTACT: or to arrange an interview, please contact:

Erin Bell

Communications Specialist

JAN Kelley Marketing

905 631 4443

ebell@jankelley.com

Related