Desiccants and Molecular Sieves (Adsorbents)
Heatless Regenerative Desiccant Dryer features compact, modular design.
Press Release Summary: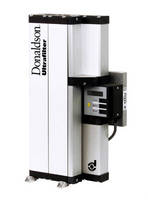 Designed for delivering clean, dry compressed air to processes and equipment in various industries, Ultrapac 2000 features pre-filter that removes solids and condensate up to residual oil content 0.03 ppm. Adsorption dryer next in line absorbs moisture in the compressed air up to a pressure dewpoint of -40°F. After-filter removes any residual small particles. Heatless desiccant cartridge is sealed to provide for minimum desiccant abrasion and long service life.
---
Original Press Release:

Compact Heatless Regenerative Desiccant for Easy Point of Use Supply of Clean Dry Air



Delivering clean dry compressed air to critical processes and equipment has been completely simplified by Donaldson Australasia's Ultrapac 2000.

The compact and modular Ultrapac 2000 suits applications across a wides spectrum of industries that rely on high quality compressed air.

Typical applications include laser cutting systems, beverage bottling, dental laboratories, packaging machines, rail vehicles, optical measuring systems, sprinkler systems and a myriad of pneumatic equipment.

The Ultrapac 2000 purification system includes a pre-filter, dryer, after-filter, control system, automatic condensate drain and silencer as part of the off-the-shelf unit. The technology has an ease of installation and serviceability.

Its pre-filter removes solids and condensate (oil/water mixture) up to residual oil content 0.03 ppm. An adsorption dryer next in line absorbs moisture in the compressed air up to a pressure dewpoint of -40°F.

The desiccant cartridge is sealed to provide for minimum desiccant abrasion and long service life. After the desiccant bed, the 'after' filter removes any residual particles down to a very small size.

With the Donaldson Ultrapac 2000, installation and set-up is simple and ongoing maintenance is made easy. This means less downtime and overall lower operating costs.

For more information, please contact Donaldson Ph: (02) 4350 2034
or email marketing.australia@donaldson.com

More from Architectural & Civil Engineering Products