Heated Perforated Vacuum Bed creates thin films.
Press Release Summary: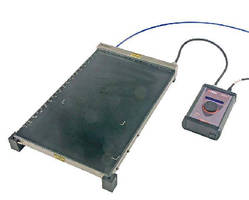 Made of hard aluminum and anodized in hardcoat flat black to provide inert surface with absolute flatness, Heated Perforated Vacuum Bed Table creates smooth thin films of paint, lacquers, and other materials on sample specimen. Table surface is perforated with grid of small holes which hold test specimen in position when attached to vacuum pump or line. With built-in heating mat, temperature of table can be elevated up to +100°C above ambient, ensuring even temperature distribution.
---
Original Press Release:

Introducing the New Heated Perforated Vacuum Bed



Thin Film Applicator



For Immediate Release: The New Heated Perforated Vacuum Bed table can be used to create smooth and consistent thin films of paint, lacquers and other materials on sample specimen such as opacity test charts, sample panels, foils or other flat substrates.



The vacuum table is made of hard aluminium and anodized in hardcoat flat black to provide a durable and inert surface with an absolute flatness. The surface of the vacuum table is perforated with a grid of small holes which hold the test specimen in position for proper drawdown when attached to a vacuum pump or line (not included).



The vacuum table has a built-in heating mat which allows the temperature of the table to be elevated up to +100°C above ambient temperature. The powerful heating device guarantees an even distribution of the temperature over the entire vacuum plate. Temperature is set and controlled through a digital temperature controller.



Unlike with the automatic film applicator the films are to be applied manually using a variety of applicators such as block-applicators, baker-applicators, bar-coaters and wire wound rods, Bird-applicator, Quadruple applicators, Biddle duplex applicators, System Wasag, Casting knife and Micrometric film applicators.



Features

• Durable and inert surface with an absolute flatness to be used with charts, foils, panels and other flat surfaces

• Even temperature distribution

• Digital temperature control

• Vacuum keeps the test specimen in position

• Item Nos. #DP-320105, #DP-320115



Paul N. Gardner Company, Inc.

Julia LaShure

Marketing Department

954.946.9454 x331

jlashure@gardco.com

www.gardco.com

More from Chemicals & Gases