Heated Knife Gate Valve targets pneumatic conveyor systems.
Press Release Summary: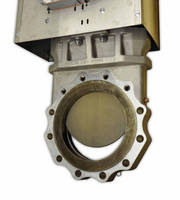 Model 40DH Heated Blade Knife Gate Valve is suited for on/off isolation service in pneumatic conveying systems located downstream of dry scrubbers and dry sorbent injection systems. Heated blade technology reduces build-up and hardening of high calcium ash and sorbents, and valve's spring-loaded packing design maintains seal pressure during operation to prevent leakage. Rated for operating pressure of 40 psi, it is available in sizes ranging from 4-14 in.
---
Original Press Release:

United Conveyor Corporation Introduces 40DH Heated Knife Gate Valve



Waukegan, Ill. - United Conveyor Corporation (UCC) recently launched the 40DH Heated Blade Knife Gate Valve designed for on/off isolation service in pneumatic conveying systems. The 40DH heated knife gate valve is specifically designed for systems located downstream of dry scrubbers and dry sorbent injection (DSI) systems. The new 40DH version utilizes a heated blade technology to reduce build-up and hardening of high calcium ash and sorbents.

The 40DH heated knife gate valve is designed for an operating pressure of 40 psi and is available in sizes ranging 4 to 14 inches. Featuring a spring-loaded packing design, the 40DH heated knife gate valve maintains seal pressure during operation preventing leakage and extending the life of the blade and packing.

"The UCC 40D knife gate valve is delivering reliable performance with over 5,000 installed units worldwide. We are now pleased to offer the 40DH heated knife gate valve design which incorporates the same proven technology with a first-to-market heated blade version," adds Dan Charhut, Vice President of Technology, UCC. "Properly heating the blade reduces buildup and pluggage, allowing the valve to close tight even in the most severe high calcium and high moisture environments."

The 40DH heated knife gate valve incorporates proven design features, such as:

o Spring loaded packing

o Rounded blade edges

o Precision-machined blade guides

o Crowned packing gland

o Adjustable and replaceable blade wedge pins

The 40DH heated blade knife gate valve can be configured with a hardened ductile iron flow cone, wear liner or replaceable seat for easy and economical rebuilds. The 40DH heated knife gate valve can be shipped fully assembled with limit switches and pre-piped with a solenoid valve to reduce installation costs.

About United Conveyor Corporation

United Conveyor Corporation (UCC) is a global leader in ash handling solutions for the power generation industry and preferred supplier for dry sorbent injection and reagent handling expertise. Since 1920, UCC has been committed to the design, supply, construction, and maintenance of world class conveyor systems precisely engineered to better serve utility providers. UCC owns and operates a steel fabrication facility to maintain direct control over quality and timely delivery of manufactured components and replacement parts guaranteed to meet or exceed stringent customer performance requirements. The company offers a global network of sales and service representatives serving customers and installations spanning six continents. For more information, please contact UCC at 847-473-5900. Website: unitedconveyor.com

More from Software