Heat Treating System is suited for heavy industrial use.
Press Release Summary: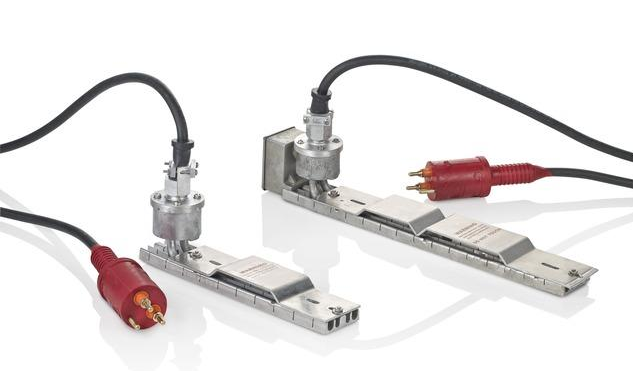 Thermostatically controlled Smart Heater, fabricated from Inconcel® alloy, is constructed of sheathed, nichrome electrical heating element formed into hairpin shape and clamped to aluminum contact shoe. Electrical resistance heater has independent thermostatic control and automatically monitors and controls temperature at each weldment. Thermatrol control is built to NEMA standards for weather tightness and outdoor use under all conditions.
---
Original Press Release:
Duraline Offers Heat Smart Heater For Heavy Industrial Use
Thermostatically Controlled Heat Treating System Cuts Labor & Energy Costs Duraline®, a leading manufacturer of lighting streamers and other electrical power distribution systems for over 50 years, offers its innovative Smart Heater. Thermostically controlled, this smart heater is the first electrical resistance heater on the market with independent thermostatic control. Duraline's innovative Smart Heater cuts energy costs and labor by monitoring and controlling the temperature at each weldment automatically. Duraline's Smart Heater is constructed of a sheathed, nichrome electrical heating element formed into a hairpin shape and is clamped to a heavy aluminum contact shoe for optimum heat transfer. The thermatrol control unit featured on Duraline's Smart Heater is the heart of the system and is built to NEMA standards for weather tightness and outdoor use under all conditions. Factory adjusted to provide correct operating temperature range, the Smart Heater's thermostat opens and closes at the end user's specified temperature. Each thermostat is tested for accuracy and must operate within ± 6 °F (3.3 °C) of the specified temperature. Duty cycle and overshoot/undershoot are determined by the application and climate conditions. To ensure maximum reliability under normal construction and fabrication site abuse, Duraline's Smart Heater features water and weather tight electrical connections and a heavy duty cast aluminum condulet box and contact shoe. Duraline's Smart Heater is fabricated from Inconcel® alloy and is insulated from the heating element by a dense layer of packed magnesium oxide. The input cable featured on the Smart Heater enters the brain housing through a watertight, strain relief cable grip fitting. In addition, the Smart Heater's heavy-duty extruded aluminum shoe insures maximum heat transfer from the heating element to enable optimum performance. Duraline, a division of J.B. Nottingham & Co., Inc., is a leading manufacturer of safety engineered, electrical power distribution systems designed to withstand rough handling and severe weather conditions. Established in 1946 as a supplier of heat-treating distribution systems to the US Navy, Duraline's principal offices and manufacturing facilities are located in Deland, Florida. Duraline sells and services its specially engineered systems throughout the United States and Canada. For more information on Duraline's Heat Treating System, contact Duraline, 1731 Patterson Ave, Deland, FL 32724. Call: 386-873-2990, or Fax: 386-873-2995. Visit Duraline on the World Wide Web at jbn-duraline.com.
More from Electrical Equipment & Systems