Heat Shrinkable Tubing seals out moisture, oils, and chemicals.
Press Release Summary: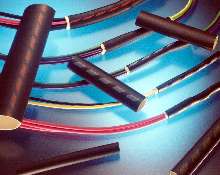 FL2500 heat-shrinkable tubing is flame-retardant, adhesive-lined polyolefin tube that seals and insulates electrical splices and in-line electrical components. Product is for harsh environments and is flame-retardant. As tube is heated to 135°C, polyolefin tube shrinks and adhesive lining melts. Tubing comes in 4 diameter sizes from 7.62 to 17.79 mm and shrinks at 4:1 ratio. Product comes in 4 cut lengths of 27, 50, 65, and 1,220 mm.
---
Original Press Release:

New Flame-Retardant Heat-Shrinkable Tube Protects In-Line Splices


HARRISBURG, Pa., May 16, 2003 - Tyco Electronics recently introduced RAYCHEM brand FL2500 heat-shrinkable tubing. FL2500 heat-shrinkable tubing is a flame-retardant, adhesive-lined polyolefin tube designed to seal and insulate electrical splices, fusible links and other in-line electrical/electronic components. FL2500 heat-shrinkable tubing is suitable for use in automotive wiring harnesses and other wiring and harnessing applications in many harsh environments or applications that require robust environmental sealing and flame-retardant performance.

The economical and effective sealing attributes of FL2500 heat-shrinkable tubing provide sealing from moisture, oils and other chemicals. As the tube is heated to it's full recovery temperature of 135 degrees C, the polyolefin tube shrinks and the adhesive lining melts, flowing into all voids of the area being sealed.

FL2500 heat shrinkable-tubing is available in four diameter sizes ranging from 7.62mm to 17.79mm and shrink at a nominal 4:1 ratio. The product is black and is available in four standard cut lengths of 27mm, 50mm, 65mm and 1220mm.

The typical price for FL2500-No.2-65mm is $125.00/lOOOpcs, lead time ten (10) business days.

For more information on Raychem brand FL2500 heat-shrinkable tubing from Tyco Electronics, call the technical support center at 1-800-522-6752 or send email to newproducts@tycoelectronics.com. Additional information is available on the web at www.tycoelectronics.com

ABOUT TYCO ELECTRONICS

Tyco Electronics is the world's largest passive electronic components manufacturer; a world leader in cutting-edge wireless, active fiber optic and complete power systems technologies; and is also rapidly developing extensive networking and building technology installation services. Tyco Electronics provides advanced technology products from over forty well-known and respected brands, including Agastat, Alcoswitch, AMP, AMP NETCONNECT, Buchanan, CII, CoEv, Critchley, Elcon, Elo TouchSystems, M/A-COM, Madison Cable, OEG, OneSource Building Technologies, Potter & Brumfield, Raychem, Schrack, Simel and TDI Batteries.

FL2500, RAYCHEM and TYCO are trademarks.

More from Material Handling & Storage