Heat Shrink Terminal Kit makes fully sealed connections.
Press Release Summary: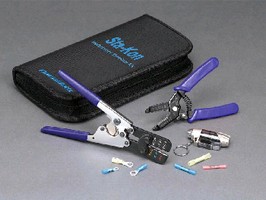 Suited for making connections in corrosive or high-moisture environments, Sta-Kon® Heat-Shrink Terminal Kit includes ring terminals and butt splices, as well as ratchet crimp tool, wire stripper, and butane torch. Terminals and splices are self-insulated with heat-shrinkable, cross-linked polyolefin and internally coated sealant. Terminals feature brazed seams to prevent separation of terminal during crimping and internal serrations for increased pullout resistance.
---
Original Press Release:

Thomas & Betts Offers Heat-Shrink Connection Kit with High-Quality Terminals and Tools Sta-Kon® Heat-Shrink Terminal Kit Includes Everything Needed for a Fully Sealed Connection



MEMPHIS, Tenn. - June 19, 2006 - Thomas & Betts introduced the Sta-Kon® Heat-Shrink Terminal Kit complete with the most popular ring terminals and butt splices, as well as a ratchet crimp tool, wire stripper and butane torch.

"The Sta-Kon Heat-Shrink Terminal Kit offers everything needed to make fully sealed connections," said Dan Vega, product manager for Thomas & Betts, Industrial Products Group. "In addition to the most popular sizes of solderless heat-shrink ring terminals and butt splices, we include a crimping tool, wire stripper and torch. The Heat-Shrink Terminal Kit is convenient for making connections in corrosive or high-moisture environments, such as boat manufacturing, and for applications requiring high strain relief and abrasion protection."

Sta-Kon heat-shrink terminals and splices are self-insulated with heat-shrinkable, cross-linked polyolefin and an internally coated sealant, which ensures a fully-sealed connection that protects against electric shock, corrosion and exposure to moisture, salt and other corrosive contaminants, as well as abrasion and mechanical strain.

The kit includes 20 each of 22-18 AWG and 16-14 AWG butt splices, 15 each of 22-10 AWG butt splices, 20 each of 16-14 AWG no. 10 stud and 16-14 no. 8 stud heat-shrink ring terminals and 15 each of 12-10 AWG 1/4-inch stud heat-shrink ring terminals.

Sta-Kon® terminals feature brazed seams to prevent separation of the terminal during crimping and internal serrations to increase pullout resistance and conductivity. The barrels are chamfered for easier wire insertion and are longer to eliminate missed crimps. Sta-Kon terminals and splices are UL® listed and CSA approved.

For more information about the Sta-Kon® Heat-Shrink Terminal Kit, visit www.tnb.com or contact your Thomas & Betts sales representative by calling (800) 816-7809.

Corporate Overview
Thomas & Betts Corporation (NYSE: TNB) is a leading designer and manufacturer of electrical connectors and components used in industrial, commercial, communications and utility markets. The company is also a leading producer of commercial heating units and highly engineered steel structures used, among other things, for utility transmission. Headquartered in Memphis, Tenn., the company has manufacturing, distribution and office facilities worldwide. In 2005, the company reported sales of $1.7 billion.

Thomas & Betts Offers Heat-Shrink Connection Kit with High-Quality Terminals and Tools
Sta-Kon® Heat-Shrink Terminal Kit Includes Everything Needed for a Fully Sealed Connection

More from Packaging Products & Equipment