Hearing Aid Telecoil is mobile phone compatible.
Press Release Summary: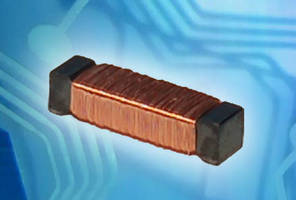 Model TP0602 allows hearing aid compatibility with mobile phones and has inductance values from 40-170 mH. Ferrite core material provides stable performance over -10 to +40ºC temperatures and unit is wound with copper wires with less than 25 micron dia. Achieving high sensitivity to magnetic field in 1 kHz frequency, SMT unit is useful in telephone communication because it permits volume control of hearing aid to be turned up without creating feedback.
---
Original Press Release:

High Sensitivity Telecoils for Hearing Aids are Compatible (HAC) with Mobile Phones.



New TP0602 Series

PREMO enlarges its telecoil family with the new TP0602 series, a high reliability and sensitivity coil for application in hearing aids.

The TP0602 is wound with thin copper wires less than 25 micron (up to 0.012mm diameter) and inductance values between 40 and 170mH. This telecoil achieves a high sensitivity to magnetic field in 1kHz (operation frequency in this kind of devices).The ferrite core material provide a stable performance in a wide range of temperature (-10ºC to +40ºC).

Its Surface Mounting Device (SMD) configuration allows an easy integration in an automatic printed circuit board assembly process, avoiding handling of the piece that could damage winding wire of the piece. That's make this piece different regarding main existing telecoils, commonly with a pig-tail wires or "thru-hole" configuration (that requires an additional wave soldering process).

These components, included in most of existing hearing aid devices, work as a magnetic field sensor, turning the magnetic field into electric voltage as a standard microphone does with the acoustic energy. This allows the hearing handicapped people to receive the signal from a magnetic inductive loop located in public buildings and transports.

Telecoils are particularly useful for telephone communication because they permit the volume control of a hearing aid to be turned up without creating feedback, and background noise can be reduced especially when using cell phones in noisy places. The user can change the phone coil in manual or automatic way to create a magnetic field as intensive as to transmit the signal to hearing aid.

A hearing aid is compatible with mobile phones when meets the FCC's technical standard for hearing aid compatibility and must have a telecoil. Since February 18, 2008, mobile phone manufacturers and service providers had to ensure that at least 50% of all handsets marketed in the U.S. meet the requirements of ANSI C63.19:2006.

The excellent quality and high reliability of these telecoils has been evaluated positively for the main hearing aid manufacturers. PREMO´s telecoil product range offer different sizes to allow its inclusion in most hearing aids models in the market. These series, TC0502, TP0602, TC0902 and TC1102 are available also with "custom" electrics characters according to customer needs.

For more information about its dimensions, electrics parameters and "pad layout" please visit our website: www.grupopremo.com

To download this product datasheet: www.grupopremo.com/in/file/108

To order this product please contact us at: info@grupopremo.com

PREMO

PREMO worldwide leading company designs, manufacture and supplies standard and custom made inductive components for the electronics market. Our wide range of products are RFID transponder coils, EMC filters, PLC accessories, planar transformers, current transducers, chokes, mainly for automotive, renewable energy and railways markets.

For further information you can always contact:

Communication Department:

Rocío Arrupe

Rocio.arrupe@grupopremo.com

PREMO Headquarter

Premo C/. Conchita Supervía

13 - 08028 Barcelona (Spain)

www.grupopremo.com

info@grupopremo.com

Phone number: 34 934 098 980

Fax: +34 934 906 682

More from Fluid & Gas Flow Equipment