Headspace Analyzer suits quality control applications.
Press Release Summary: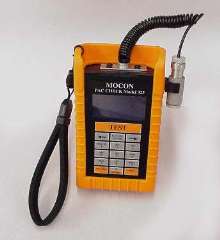 Portable PAC CHECK® Model 325 oxygen and carbon dioxide analyzer measures controlled and/or modified atmospheres in food packages. Sticky Foot(TM) probe houses needle internally for protection. Tacky septum, attached to bottom of probe, rests against package. Needle is actuated by twisting outer housing which allows it to penetrate package, thereby measuring internal gas levels. Analyzer includes 128 x 68 LCD display and password-protected calibration and setup.
---
Original Press Release:

New Hand-Held O2/CO2 Analyzer Debuts at Eastpack


Minneapolis, MN (June 15, 2004) -MOCON, Inc. (NASDAQ: MOCO), the leading manufacturer of instrumentation equipment, adds a new, portable, hand-held unit to its line of headspace analyzers.

The PAC CHECK® Model 325, hand-held oxygen and carbon dioxide analyzer measures controlled and/or modified atmospheres in food packages. The unit can be used in production, quality control and R&D applications to verify residual percentages of O2 and/or CO2.

In addition to providing reliable and accurate headspace analysis of finished packages, the PAC CHECK® Model 325 has also been designed with a variety of user-friendly features.

Unlike most headspace analyzers where the gas-drawing needle is exposed, the PAC CHECK® Model 325 features the Sticky Foot(TM) probe-which houses the needle internally for additional protection. A "tacky" septum, attached to the bottom of the probe, rests against the package. The needle is actuated by twisting the outer housing which allows it to penetrate the package thereby measuring the internal gas levels.

Set up and calibration screens are password protected minimizing the chance of operator error. The system also has the ability to store and retrieve product names and link them to measured data which is downloadable via a port. (Language options other than English are also available.).

The display screen features 128 x 68 LCD-style graphics and is backlit for easy readability. The screen is also "flipable" enabling the user to view the data in a variety of positions.

Another feature is the PAC CHECK® Model 325's rugged construction. A protective rubber "boot," which surrounds the unit and a hand strap both minimize the chance of damage.

Typical applications include snack foods, baked goods, meats and cheeses, coffee, juice, carbonated beverages, produce and pharmaceutical vials and pouches.

MOCON is a leading provider of instrumentation and consulting and laboratory services to medical, pharmaceutical, food and other industries worldwide. See www.mocon.com for more information.

Please send sales leads from editorial inquiries to:
Steve Bunnell
MOCON, Inc.,
7500 Boone Avenue North
Minneapolis, MN 55428 U.S.A.
Telephone: 763-493-6370
Fax: 763-493-6358
Email: sbunnell@mocon.com
www.mocon.com

Related