Headset complements Talkman® T2 wearable computer.
Press Release Summary: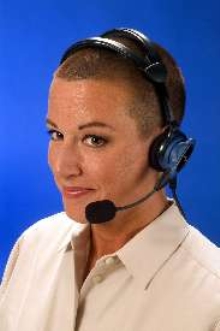 Weighing 5.4 oz, Talkman® SR-20 is suited for environments where background noise, temperature, and humidity reach extreme levels. Attached to adjustable boom, microphone is bi-directional, noise-canceling, and waterproof. Memory feature allows microphone to be repeatedly positioned to user's preference. Reversible headset features stainless steel, dual-strap, padded headband and padded, water-proof ear cup that adjusts vertically and horizontally.
---
Original Press Release:

Vocollect Introduces SR-20 Talkman® Lightweight Headset


Next Generation Headset Offers Greater Comfort, Performance and Reliability for Talkman Users

PITTSBURGH, September 1, 2004 - Vocollect, the global leader in voice-directed distribution systems, is now shipping the SR-20 Talkman® Lightweight Headset, the company's latest addition to its growing line of headsets and accessories. Vocollect engineered the SR-20 Headset specifically for industrial and distribution center environments where background noise, temperature and humidity range to extreme levels. Designed to complement the company's Talkman® T2 mobile, wearable computer, the SR-20 Headset offers startling clarity, full-shift comfort and unsurpassed reliability.

Meeting the tough demands of the distribution center environment, the SR-20 Headset weighs just 5.4 ounces to enhance the comfort of its ergonomic design. The microphone, attached to an adjustable boom, is bi-directional, noise-canceling, and waterproof. Through an innovative memory feature, the microphone positions easily and repeatedly to each user's preferred position. A padded dual-strap headband provides maximum stability, while its stainless steel construction eliminates corrosion, even in moist settings. The well-padded, waterproof ear cup adjusts vertically and horizontally to fit snugly and comfortably. And because the SR-20 Headset is reversible, users can wear it on either side of the head to accommodate special needs such as impaired hearing in one ear.

Vocollect customer Giant Eagle, Inc., one of the nation's leading food retailers and food distributors, put the SR-20 Headset through its paces during field trials at the company's Pittsburgh- and Cleveland-area retail support centers (distribution centers). As a key component of the rigorous human factors development and testing, Giant Eagle employees provided valuable real-world feedback on operational functionality throughout multiple design refinements to ensure that all user satisfaction criteria were met or exceeded.

"Our employees found the dual headband construction very secure and comfortable," said Larry Baldauf, Giant Eagle senior vice president, distribution and logistics. "They also responded favorably to having the opportunity to position the equipment on either ear and felt that the microphone's memory feature made the headsets easy to use in a distribution setting."

"The headset is a well-designed, durable piece of equipment and we are pleased with Vocollect's ongoing commitment to improving its products in ways that directly benefit our employees," added Baldauf.

"There is just no compromising performance." said Greg Holland, Vocollect product manager. "When we designed and built the SR-20 Headset, we knew that durability was a key part of the total cost of ownership, so we tested the SR-20 Headset well beyond conventional parameters. We have incorporated all that testing into the final design, component selection and manufacturing process to deliver a quality, high-performance product. Even with late-stage prototypes, we made expensive re-tooling decisions to take this headset from completely dependable to reliable in the toughest conditions. Maybe the most exciting results were from the extended user trials we ran on three continents. Many users made comments like, 'I forgot I was wearing it.' That is the best feedback we could have received."

"The steps taken to develop, test and build the technically advanced SR-20 Headset represent a real milestone for Vocollect," said Larry Sweeney, vice president of product management. "We drove this project with early and frequent customer input. Then we organized it around worst-case, real-life testing at each step and design-based quality assurance to deliver long-life performance. In other words, we built this product to be like the rest in our growing line - the industry standard for performance and market value - and unfailingly reliable."

About Giant Eagle
Giant Eagle Inc., ranked 26th on Forbes magazine's largest private corporations list and recipient of Progressive Grocer's 2002 Retailer of the Year Award and the Best Places to Work in Pennsylvania Award, is one of the nation's largest food retailers and food distributors, with more than $4.7 billion in annual sales. Founded in 1931, Giant Eagle, Inc. has grown to be the number one supermarket retailer in the region with 141 corporate and 82 independently owned and operated stores throughout western Pennsylvania, Ohio, north central West Virginia and Maryland.

About Vocollect
Since pioneering voice recognition for industry in 1987, Vocollect has set the standard for warehouses and other business settings. Together, its market-leading Talkman® wearable mobile computer and integrated software suite cut operating costs by eliminating errors and improving worker productivity shift after shift.

Leading WMS providers, material handling integrators and specialty voice solution providers around the world choose the performance and reliability of Vocollect to deliver integrated, voice-directed distribution solutions. And every day, over 60,000 workers around the globe rely on Vocollect's integrated voice solution to help improve their operations.

www.vocollect.com
North America: info@vocollect.com.
Europe: voc_emea@vocollect.com

More from Test & Measurement