Headline New Partnership Supports Security Sector with Human Body Temperature Screening System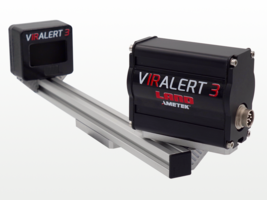 AMETEK Land has partnered with sister company Telguard, to offer its VIRALERT 3 non-contact human body temperature screening system as part of its distribution channel to the security sector. 
The VIRALERT 3 is the first of its kind, providing a camera, thermal imager, and a temperature-controlled reference source on a single mounting platform. Using automatic face detection, the system ensures a valid reading, and provides a measurement that's accurate to within 0.5°C/ 0.9°F, it then calculates core body temperatures through a rapid test procedure that lasts less than two seconds.
Developed over 18 years by AMETEK Land experts, the VIRALERT 3 provides real-time infrared thermal imaging from a safe social distance. It is designed to screen visitors for elevated skin temperature at an entry point without slowing the flow of people and without the need for person-to-person contact.
The VIRALERT 3 is easy to use, and can be left to operate automatically, with audible and visual alarms alerting when high temperatures are discovered.
To ensure the highest levels of accuracy and reliability, it has a blackbody calibration source fitted on the same platform as the integrated thermal imager/visual camera. This makes for a compact system that won't get in the way of queueing people and can be easily wall or desk-top mounted.
Justin Smith, AMETEK Land Vice President said, "Partnering with Telguard is a perfect fit. Telguard is a leader in cellular communications devices for security systems, and VIRALERT 3 complements these products, providing the security sector with all the systems they need to open facilities safely, and just as importantly, to stay open".
The VIRALERT 3 builds on AMETEK Land's proven expertise in temperature technology. The company has been developing high-accuracy infrared measurement instruments since 1947 and has been creating human body temperature screening systems since responding to the SARS outbreak of 2002.
For more information on VIRALERT click here
Click here for more information on VIRALERT 3
Click here to read the case study.
More from Chemicals & Gases