Headlamp features 3-in-1 lighting technology.
Press Release Summary: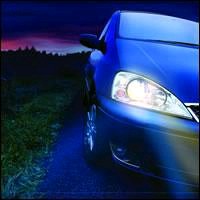 Developed specifically for aftermarket, NightGuide Headlamp delivers specific illumination to 3 visual zones to give drivers best possible nighttime visibility and safety. In center zone, unit provides white light with beam up to 50 ft longer than Halogens. Right zone produces blue light for readability of road signs and markers, and left zone provides warm yellow light to minimize glare for oncoming cars. NightGuide bulbs are street legal and DOT compliant.
---
Original Press Release:

Philips Nightguide Headlamp Bulb Delivers Lighting Breakthrough



Philips NightGuide Headlamp Bulbs with 3-in-1 lighting technolgy

Farmington Hills, MI... Philips Automotive Lighting North America, a division of Royal Philips Electronics (NYSE:PHG), is introducing the new Philips NightGuide headlamp, a lighting innovation that represents a dramatic advance over standard Halogen lamps, and has been specifically developed for the aftermarket. NightGuide is designed to deliver specific illumination to three distinct visual zones to give drivers the best possible nighttime visibility and safety.

Using special technology that projects specific colors of light, NightGuide creates three distinct visual zones for the driver. In the center zone, NightGuide provides a brilliant white light, with a beam up to 50 feet longer than standard Halogens, to improve the driver's vision and reaction time. In the right zone, blue light provides increased readability of road signs and markers. In the left zone, a warmer yellow light reduces glare for oncoming cars and helps improve the driver's concentration on the center zone.

The Philips NightGuide headlamp bulb was introduced during the 2005 AAPEX show and received the 2005 Industry Award for Best New Product from the Auto International Association (AIA).

Philips conducted extensive night vision research NightGuide's 3-in-1 lighting technology is based on extensive night vision research. Philips learned that while white light improves perception of details, blue light produces a better readability of roadside signage. Research also showed that although bright white light provides the best visibility for distance, it can be perceived as harsh or blinding by oncoming drivers.

According to Michael Scheiven, Director, Aftermarket Channel, "In spite of the fact that there is five times more traffic during the day, statistics show that a third of accidents and almost half of the traffic fatalities occur at night, and the primary contributing factor is usually the driver's vision. At night, our visual acuity is reduced by 70%, even more so with older drivers. The human eye is not adapted for nocturnal vision, so colors disappear, contrast fades away, and we are often blinded by oncoming light from other drivers. We designed our NightGuide bulb to address these issues and help the driver to compensate for vision loss at night."

NightGuide bulbs are designed to be street legal and DOT compliant. Based on Philips' recommendation to always replace bulbs in pairs, NightGuide headlamp bulbs are offered in two-bulb packages for 9003, 9004, 9005, 9006, 9007, and H7 applications.

Philips Automotive Lighting, a world leader in automotive lighting technology and inventor of the Halogen bulb and Xenon HID lighting, produces a full range of DOT approved lighting for replacements and upgrades. Philips upgrade lighting also includes VisionPlus, an advanced safety headlamp bulb that delivers a powerful beam that's up to 50 feet longer than conventional lamps and CrystalVision, high performance lighting that creates the look of HID. Philips Automotive Lighting lines cover every type of application including headlighting, signaling, and interior lighting.

About Philips Automotive Lighting
Philips Automotive Lighting is a business unit of Royal Philips Electronics and one of the world's largest suppliers of lighting for the automotive industry. Since the birth of the incandescent lamp in the 19th century, Philips has built its renowned reputation on innovation and performance. This continues today with advanced automotive lighting that combines 21st century technology with the lifestyle requirements of today's drivers.

About Royal Philips Electronics
Royal Philips Electronics of the Netherlands (NYSE: PHG, AEX: PHI) is one of the world's biggest electronics companies and Europe's largest, with sales of EUR 30 billion in 2004. With activities in the three interlocking domains of healthcare, lifestyle, and technology and 161,586 employees in more than 60 countries, it has market leadership positions in medical diagnostic imaging and patient monitoring, color television sets, electric shavers, lighting, and silicon system solutions. News from Philips is located at http://www.philips.com/newscenter.

More from Packaging Products & Equipment