HDPE Pipe meets needs of water transportation and irrigation.
Press Release Summary: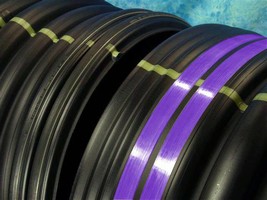 Designed for low head irrigation projects such as ditch enclosures and pipe replacement, Model N-12 Low Head Pipe is available in 30-60 in. diameters. Long bells and spigots on pipe joint enable watertight performance. Pipe is extruded with pressure-rated resin in liner portion to allow continuous pressure of up to 5 psi. Resistant to soils or effluents with pH ranges of 1.5-14, pipe can support H-25 live loads with minimum of 12 in. of cover.
---
Original Press Release:

Advanced Drainage Systems, Inc. Introduces N-12® Low Head Pipe for Irrigation Projects



Hilliard, Ohio - August 17, 2006: Advanced Drainage Systems, Inc. has led the market in product innovation for nearly 40 years. The succession from standard corrugated high density polyethylene pipe (HDPE), to N-12 Watertight pipe, and now to N-12 Low Head Pipe has taken place over many years and has provided the most reliable and technologically sound results.

N-12 Low Head Pipe is an innovative and cost effective pipe designed expressly to meet the growing need for water transportation and irrigation. "ADS N-12 Low Head pipe was designed to meet the specific needs of a market that has been ignored for too long", stated Kevin Miller, Product Manager for ADS. The pipe provides the structural strength, joint integrity, flow capacity, flexibility and economy to serve the increasingly important needs of this market.

ADS Low Head pipe can be utilized for ditch enclosures for irrigation, irrigation pipe replacement, and other low head irrigation projects. The product is available in 30" (750mm) through 60" (1500mm) diameters, and exceeds the requirements for Type S pipe under AASHTO M294 and ASTM F2306 due to its hydrostatic design basis (HDB) pressure rated resin and advanced connection design.

The ADS N-12 Low Head pipe joint, recognizable by its purple branding wrap is a modification of the integral bell-and-spigot joint used in N-12 WT pipe. Longer bells and spigots were introduced to provide increased joint offsets while maintaining watertight performance. Multiple ceramic/polymer wraps are used on the longer bell to provide additional sealing area and ease of joint assembly in field conditions. The spigot has been designed with space for a second optional gasket to provide redundant sealing of the joint. These modifications provide a watertight yet flexible joint that can handle the pressures associated with low head irrigation projects.

The structural strength, durability, and hydraulic efficiency of ADS Low Head pipe make it well-suited for the industry. Low Head pipe's strength is derived from its structural flexibility and allows it to support H-25 live loads with a minimum of 12" of cover (24" for 60" pipe). HDPE's material makeup is highly resistant to chemical attack and is unaffected by soils or effluents with pH ranges of 1.5 to 14. The pipe is extruded with a pressure-rated resin (PE 3408) in the liner portion of the pipe which allows continuous pressure (up to 5 psi) to be applied without detrimental long-term effects. The smooth interior provides superior flow capabilities that are essential for efficient transmission of irrigation water.

As with all ADS products, Low Head pipe offers significant installed cost savings due to its light weight, fast and easy installation through long lengths and push-together joints, and reduced on-site labor and equipment requirements.

About Advanced Drainage Systems, Inc.

Advanced Drainage Systems, Inc. (ADS), is the world's largest producer of HDPE corrugated plastic pipe. Founded in 1966, it serves the storm water drainage industry through a global network of over 40 domestic and international manufacturing plants and over 30 distribution centers. In addition to its flagship N-12® pipe, the company offers a complete line of fittings and other accessories including StormTech® storm water chambers, Nyloplast® drainage structures and various geotextiles through its relationship with Propex® Fabrics, and Naue GmbH. To learn more about ADS, log on to www.ads-pipe.com or call 800-733-7473.

For more information, please contact:
Ms. Tori Durliat,
Advanced Drainage Systems, Inc.
Corporate Manager of Marketing and Communications
401 Olive Street
Findlay, Ohio 45840
Phone: 419-424-8275
Fax: 419-424-8302
E-mail: tdurliat@hancor.com

More from Electronic Components & Devices