HDMI Extenders foster broadcast video transport integration.
Press Release Summary: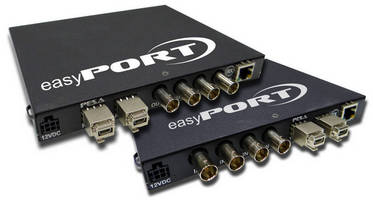 Able to distribute or switch 2 HDMI inputs to 4 independent SDI video sources, EASY-2HX4B simplifies cable and power management at desktop. Model EASY-4BX2H offers flexibility at studio workstation, where up to 4 SDI video input feeds can be converted and switched to 2 different HDMI video displays. Offered with coaxial 75 Ω connections, EASY-2HX4B and -4BX2H can be extended up to 80 m away using RG-6/U coax. Fiber versions, EASY-2HX4F and -4FX2H, are also available.
---
Original Press Release:

PESA Expands easyPORT Product Line with HDMI Extenders



Huntsville, Alabama – PESA, a leading U.S.-based custom design and build manufacturing company for professional audio and video signal distribution, today unveiled four new easyPORT™ HDMI extenders at the 2013 NAB Show (Booth SL4305), which runs April 8-11 in Las Vegas, Nev.



The EASY-2HX4B distributes or switches two HDMI inputs to four independent SDI video sources. The compact throw-down box simplifies cable and power management at the desktop when you need to convert two HDMI inputs to share across multiple SD/HD or 3G-SDI video transports. With the built-in switch feature, you can switch any two HDMI sources to any or all of the four SDI outputs.



A companion throw-down box, the EASY-4BX2H offers flexibility at the studio workstation where up to four SDI video input feeds can be converted and switched to two different HDMI video displays. Users can now select from four SDI sources in about the same space as one 3G-SDI-to-HDMI converter. With its built-in switch, the EASY-4BX2H allows users to view the same image on both displays or select different sources for live preview and monitoring.



The easyPORT modules can be configured via an Ethernet connection for remote control room management or configured and switched locally through the mini-USB control port. Cattrax, PESA's included software GUI, offers a powerful set of tools to manage, switch, and diagnose internal settings for the new easyPORT modules.



Offered with coaxial 75 Ohm connections, the EASY-2HX4B and EASY-4BX2H can be extended up to 80m away using typical RG-6/U coax. The EASY-2HX4F and EASY-4FX2H fiber versions offer standard LC-type SFP pluggable modules, with support for distances up to 600m over multi-mode or 10km over single-mode fiber.



"The new easyPORT HDMI extenders make it easier than ever to integrate HDMI sources into broadcast video transport," said Dan Holland, PESA vice president of product marketing. "With built-in network management capabilities and support for very long cable runs, these new easyPORT HDMI extenders are the perfect choice for remote site applications."



Some of the most compact switching throw-down boxes available, easyPORT modules are easy to setup and offer significant size and power advantages over standard single-port converters – with added port options and built-in switching capabilities. For back room installations, PESA offers a 1 RU rack power distribution tray that holds up to four easyPORT modules, which are powered by a single power source to reduce clutter.



About PESA

As a leading provider of audio/video connectivity, PESA offers a wide selection of routing switchers, matrix switchers, extenders, converters, media extenders, and signal processing gear to support government, military, industrial, commercial, broadcast and mobile truck applications. PESA offers one of the widest ranges of AV products – from large scale fiber optic routing to single-point CAT-5 DVI extenders – each with the integrity and innovative high performance technology expected from PESA. Our products are available around the world from a leading team of channel partners offering local support and installation; and all of our products are supported by 24/7 technical support. To learn more about our technologies and services visit www.pesa.com. PESA is located in Huntsville, Alabama with regional offices throughout the United States.



All products mentioned herein are trademarked property of their respective owners.



Press Contact

Mark J. Pescatore

Pipeline Communications

561-531-3106

mark@pipecomm.com



Company Contact

Dan Holland

VP, Product Marketing

256-726-9200

dholland@pesa.com

More from Optics & Photonics