Circuit Board Assembly Services
HDI Flex Circuits offer microvia capability.
Press Release Summary: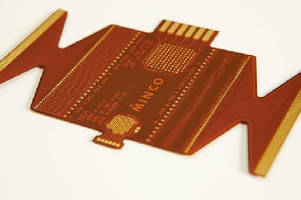 Minimizing layer count and circuit size, High Density Interconnect Flexible Circuits feature blind and buried microvia capability down to 75 microns and trace and space capabilities down to 50 microns. Minimum core dielectric thickness is 25 microns and minimum copper thickness is 9 microns. Copper via fill is available.
---
Original Press Release:

Minco Announces a New Line of High Density Interconnect (HDI) Flex Circuits with Microvias



These circuits can save up to 40% of the space and weight of traditional flex circuits.

Minneapolis, Minn., -Minco, a designer and manufacturer of critical components for critical applications, has become fully HDI (High Density Interconnect) capable for flexible circuits. Minco is one of the few North American flexible circuit manufacturers who has invested in the equipment and personnel necessary to provide HDI flexible circuits with blind and buried microvia capability down to 75 microns and trace and space capabilities down to 50 microns. Minco is ISO 9001:2000 and AS9100B certified.

HDI flex circuits lower cost by reducing layer count and reducing circuit size. Increased circuit density can eliminate extra layers and save up to 40% of the size and weight of non-HDI designs.

On-site, state-of-the-art equipment give Minco the capability to perform laser drilling, laser direct imaging, copper plating, automated optical inspection and electrical verification to achieve leading edge manufacturing capabilities.

Minco can produce HDI flex circuits with these feature sizes::

o Minimum microvia size: 75-micron

o Minimum microvias pad size: via diameter +150-microns

o Minimum line and spacing: 50-micron

o Blind microvia plating aspect ratio (depth to diameter): 1:1

o Minimum core dielectric thickness: 25-micron

o Minimum copper thickness: 9-micron

o Blind and buried via construction with sequential build technology

o Copper via fill available

A new, four-page color brochure on Minco's HDIs can be downloaded or ordered in print, as can a 20-page Test Report titled Multilayer High Density Interconnect Circuits: High Reliability Microvias in 12" x 24" (305 x 610 mm) Panel Size.

This test report explains the key to reaching HDI capability is through robust microvia process capability. This includes the use of advanced equipment, microvia formation, metallization and registration on a large panel size. This combination makes high yield (99%) HDI processing a reality while maintaining high manufacturing throughput and reduced cost.

Additionally, Minco IPC-certified designers can help improve reliability and make your designs easier to build and-without sacrificing performance. With our Engineer2Engineer Community (E2E), service and design assistance is available when you need it. You can access this community, or to learn more about Minco HDIs, by going to www.minco.com or phoning 763-571-3121.

About Minco

Minco designs, manufactures and markets critical components for critical applications. The company is unsurpassed in its ability to integrate and assemble flexible Thermofoil(TM) Heaters, Flex Circuits, Sensors and Instruments into a single component for greater efficiency. Minco helps companies minimize the risk of product failure by providing highly reliable components and expert design services.

Worldwide Headquarters: 7300 Commerce Lane, Minneapolis, MN 55432 U.S.A.

European Headquarters: Zone Industrielle 09310 Aston, France

Asia Pacific Headquarters: 20 Science Park Rd #20-31 Teletech Park, Singapore

More from Sensors, Monitors & Transducers