HD-SDI Video Splitter (PV990 Series)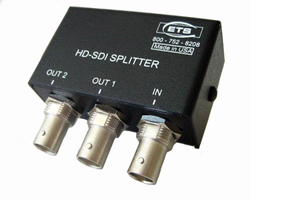 HD-SDI Video Splitters from ETS in a new airborne application
ETS has been manufacturing high quality audio and video baluns and panels since the 1960's. All of its 400+ products are designed to be robust, dependable and versatile.
Now and then an ETS product finds its way into an unusual or exceptional application. that demonstrates its true versatility. So it is with the PV991 and PV992 HD-SDI Video Signal Splitters. While the splitter was designed to carry a video signal, typically from a video camera to two displays (thus the term "splitter") the device was found to have an unusual specific application.
A southeastern State Patrol aviation department has installed two of the splitters in each of its helicopters, designed to conduct video signals from two Forward-Looking Infra-Red ("FLIR") cameras mounted on the front of the aircraft back to a small video screen visible from the two crew positions on the flight deck.The remaining video outputs are routed to ancillary electronic devices elsewhere in the helicopter that save and store video information for later analysis.
As the helicopters are assigned to a wide range of duties, from routine search and rescue to wild fire reporting, flood patrol, offshore lifesaving, wildlife management, lost or injured person extraction, aerial powerline patrol, criminal pursuit, traffic monitoring and event reporting, they are often exposed to extreme environments. Adopted decades ago, the FLIR system can return an image in near-darkness by recognizing infrared heat patterns emitted by humans, animals, plants, water vapor, and mechanical devices like auto engines.
As testimony to the robust nature of the ETS splitter, the high inherent vibration levels of the rotorcraft have posed no challenge for the ETS splitters, which continue to function perfectly under the most adverse temperature, humidity, and pressure conditions.
It is yet another example of the durable design of Energy Transformation Systems products, relied upon worldwide for their built-in rugged dependability.
Visit www.etslan.com
Energy Transformation Systems, Inc.
About ETS - Woman Owned Small Business
Fremont, CA - Since 1967, beginning with custom-made transformers and continuing since 1981 as innovators of balun, hub, adapter and splitter technology, ETS provides a wide range of media conversion solutions for audio, data and video for analog or digital installations over structured wiring systems. ETS provides you solutions with 100% guaranteed USA-Made products.
Sales Contact:
Name: Joe Rosenberger,
Sales
Email address: sales@etslan.com
800-752-8208 or 510-656-2012
More from Controls & Controllers