HD Flat LCD Display targets digital operating rooms.
Press Release Summary: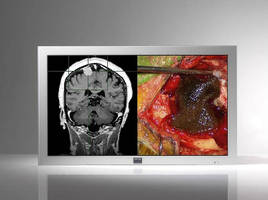 Using 42 in. medically approved, multi-modality Model MD-4221, surgeons and nurses can centralize all critical information, including HD video and radiology images, and present it to entire team in real time. Users can configure screen layout by means of picture-in-picture or picture-and-picture functionality. Display is compatible with endoscopic video, room and boom camera video, patient data, and surgical planning information. HD video sources can be connected through DVI and HDSDI input.
---
Original Press Release:

Barco Launches 42-inch Full HD Flat Display for the Operating Room



SIIM Annual Meeting, Charlotte, NC, USA, 4 June 2009 - Medical display specialist Barco has enhanced its existing surgical display portfolio with the introduction of a new 42-inch LCD display for use in the digital operating room. The new MD-4221 is a medically-approved multi-modality monitor that allows surgeons and nurses to centralize all critical information, including HD video and radiology images, and present it to the entire team in real time.

"Large, wall-mount LCD monitors are increasingly being installed in today's digital operating theaters. They allow the surgical staff to make fast and well-informed clinical decisions without having to leave the sterile field around the patient," says Johan Stockman, Market Director at Barco. "With our new MD-4221 display, the OR team now has a large-screen display solution that combines the benefits of modern surgical video informatics with DICOM-quality radiology imaging. The outcome is a versatile display solution that presents multi-modality images on demand and in real time," he adds.

The MD-4221 is the next generation of Barco's successful HD-42 display which has been further optimized for use in the digital operating room. Equipped with the latest high-quality LCD panel, the MD-4221 delivers bright, crisp images even in highly illuminated OR environments. The display's wide viewing angle ensures reliable, accurate images for everyone in the surgery suite. Surgeons and nurses can easily configure their screen layout by means of a flexible Picture-In-Picture or Picture-And-Picture functionality. This allows for more dynamic presentations that show more information simultaneously on the screen.

The brand-new MD-4221 display is compatible with a multitude of sources, including endoscopic video, room and boom camera video, patient data and surgical planning information. High-Definition video sources, such as HD endoscopy cameras, HD surgical light cameras, etc., can be connected through DVI and HDSDI input. These high-resolution moving images are displayed smoothly, accurately and without artifacts thanks to the extremely fast response time of the display's LCD panel.

The versatile MD-4221 also displays radiology images with great precision. Therefore, the monitor is fitted with a built-in DICOM Look-Up Table to guarantee accurate grayscale representations. It allows surgeons to use the MD-4221 as a digital lightbox for consulting radiology images.

The novel display solution has been specifically designed and certified for use in the Operating Room. The monitor is easy to clean and disinfect (IPX1 compliant) thanks to its non-reflective protective front glass. Its fan-less design avoids the spread of contaminants in the sterile field.

About Barco

Barco, a global technology company, designs and develops visualization products for a variety of selected professional markets. Barco has its own facilities for Sales & Marketing, Customer Support, R&D and Manufacturing in Europe, North America and Asia Pacific. Barco (NYSE Euronext Brussels: BAR) is active in more than 90 countries with about 3,300 employees worldwide. Barco posted sales of 725 million euro in 2008.

© Copyright 2009 by Barco - May be reproduced by professional press only

For more information, please contact

Johanna Ocampo

Press & PR Specialist North America

Barco n.v.

Phone:+1 916 273 5301

johanna.ocampo@barco.com

More from Printing & Duplicating Equipment