HayssenSandiacre to Present Latest Offerings at Pack Expo 2011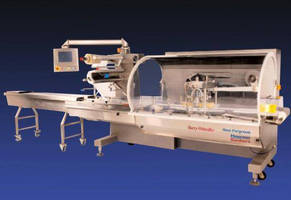 GREENVILLE, S.C. - HayssenSandiacre will present its expanding line of vertical and horizontal form/fill/seal packaging solutions at Pack Expo 2011, September 26 to 28, at the Las Vegas Convention Center in Nevada. The integration of HayssenSandiacre and Rose Forgrove in recent years has enhanced the company's combined vertical and horizontal technology for flexible packaging.

A team of professionals from HayssenSandiacre will be available in Booth #C-500 to discuss the company's latest offerings and to help attendees identify the equipment needed to improve or expand their operations. A few of the systems HayssenSandiacre offers include:

Ultrasonic Technology: HayssenSandiacre and Herrmann Ultrasonics have partnered to exhibit a VFFS packaging system with ultrasonic sealing during the show. Attendees can visit the Herrmann Ultrasonics Booth #2737 to learn why ultrasonic sealing is fast
becoming an advantageous technology for a variety of products. With Near 100% seal quality, the best possible reduction of "leakers" and minimized film and product waste, ultrasonic sealing is an undisputedly green technology.

Resealable Stand-Up Packages: HayssenSandiacre will be exhibiting its newest bagger, the Novus Doy/Quad in the Sealed Air/Cryovac Booth #1335. Many food processors are turning to this truly unique machine for its flexibility to run both Quad Seal and Doy
Packs with an easy changeover to high-speed pillow bag production. All of these package styles can be created on this one system, by easy changeover of cassette: Doy Pack, Quad Pack, Flat Bottom Bag, Tucked/Gusseted Bag and Pillow Bag. Teaming with
Cryovac, the Novus Doy/Quad will be integrated to include FoldLOK Multi-Seal packaging. FoldLOK Multi-Seal ensures freshness for a variety of products and is the ideal package footprint for distribution and shelf storage.

ULTIMA ST/SV VFFS Baggers: HayssenSandiacre's long-standing, durable ULTIMA family offers affordable intermittent motion technology with more dwell time for better looking seals and increased packaging speeds RT2000/5000 Horizontal Form Fill Seal: Available in single or dual lane, the RT Series is perfect for modified atmosphere packaging requirements, with unique long dwell for superior sealing and speeds up to 250ppm.

Rose Forgrove Flow Wrappers: Proven, dependable performance. The servo technology platform ensures years of efficient, costeffective operation. Rose Forgrove's modular, open design allows for thorough sanitation and quick no-tool changeovers. The product
line includes Athena, Integra, MerlinHSE and Minerva.

HayssenSandiacre to Present Latest Technologies at Pack Expo 2011

About HayssenSandiacre

HayssenSandiacre has always been known for quality and innovation in packaging machinery and today is recognized as a form fill seal (FFS) technology and services leader worldwide. That reputation continues with innovative, high-speed flexible VFFS and HFFS packaging systems that accurately fill and bag thousands of food products and a wide range of other types of retail, industrial and institutional products. HayssenSandiacre is headquartered in the Greenville/Spartanburg area of South Carolina and is a part of the family of Barry-Wehmiller Companies, the largest packaging automation group in the Western Hemisphere.

ABOUT BARRY-WEHMILLER

Barry-Wehmiller Companies, Inc. is a diversified global supplier of engineering consulting and manufacturing technology solutions in packaging, corrugating and paper converting across a broad spectrum of industries. Barry-Wehmiller's balanced approach to the market is made possible through nine interactive divisions: Accraply, Inc., a leading manufacturer of automatic labeling and label converting and finishing systems; Barry-Wehmiller Design Group, Inc., a premier supplier of manufacturing automation, facility design, and other engineering consulting services; Barry-Wehmiller International Resources (BWIR), a global provider of business and technology solutions to the mid-market manufacturing domain; FleetwoodGoldcoWyard, Inc., a leading producer and supplier of automated can end and product handling equipment, advanced conveyance technology, palletizers, depalletizers, and process equipment; HayssenSandiacre, a form/fill/seal technologies and services leader for more than 100 years; MarquipWardUnited, Inc., a leading manufacturer of equipment for the corrugated and folded carton industries; Paper Converting Machine Company (PCMC), providing high-performance converting machinery for the global tissue, nonwovens, package printing, and envelope manufacturing industries; PneumaticScaleAngelus, a global provider for filling, capping, can seaming, labeling, and centrifugation; and Thiele Technologies, Inc., a leading producer of placing, feeding, bagging, cartoning, case packing, and palletizing equipment.

In fiscal year 2010, Barry-Wehmiller leveraged a strategic combination of organic and acquisition growth to achieve revenues surpassing $1 billion. Barry-Wehmiller now employs more than 5,500 team members in over 65 locations worldwide.


More from Software