Waterjet Cutters and Cutting Machinery
Hasmak Construction Installs Jet Edge 5-Axis Waterjet Cutting System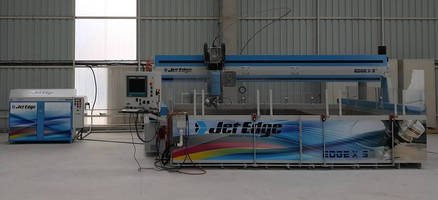 Turkish Industrial Plant Contractor Plans to Expand Business with Waterjet



MERSIN, Turkey – Jet Edge Inc. is pleased to announce that Hasmak Construction Division, a leading industrial contractor serving the Middle East, Eastern Europe and Russia, has installed a Jet Edge EDGE X-5® 5-axis waterjet cutting machine at its new fabrication shop in Mersin, Turkey.



Based in Mersin, and in business since 1988, Hasmak has completed construction, erection projects and maintenance works in Turkey, Russia, Turkmenistan, Qatar, and Jordan.  Its projects have included thermal power plants, petroleum refineries, gas plants, petrochemical plants, cement plants, pipelines, hydroelectric plants, iron-steel plants, glass factories and waste heat recovery power plants.



Hasmak purchased its waterjet system through its sister company Hasmak Representation Division, Jet Edge's distributor for Turkey.  Hasmak selected Jet Edge's premiere X-Stream-powered EDGE X-5® 5-axis waterjet.  The CE-marked system features a 2.4m x 4m (8'x13') gantry, 5-axis cutting head, laser plate mapping, 6200 bar (90,000 psi) xP90-50 X-stream pump, and a bladder tank for underwater cutting.  The company has built a new fabrication shop to house the waterjet and other fabrication equipment, including a press brake and plasma table.



Hasmak plans to use its new 5-axis waterjet cutting capabilities to grow its business and take in new work subcontracting cold cutting services for Turkish manufacturers and defense industries.  The company plans to cut a wide range of materials including metals and composites.



"We are very excited to offer our customers 5-axis waterjet cutting capabilities," said Mert Bozkaya, vice president of fabrication and construction for Hasmak Construction Division.  "Our new Jet Edge can process highly precise 3D parts from virtually any material, without creating a heat affected zone, and often eliminating the need for secondary finishing operations."



For more information about Hasmak Construction, visit www.hasmak.com.tr or call +90 216 688 3777.



For more information about Jet Edge, visit www.jetedge.com or call +1 763-497-8726.



About Jet Edge

Established in 1984, Jet Edge is a global designer and manufacturer of waterjet systems for precision cutting, surface preparation and coating removal. Jet Edge systems are used around the world in a broad range of industries, from the world's leading airlines to automotive, aerospace, industrial manufacturers, machine and job shops.



More from Test & Measurement