Harman Corporation Plastic Products in Industrial Applications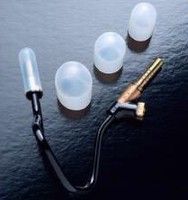 Dip molded plastic caps, grips and plugs are used in diverse industrial applications-including the toy, automotive, tools, and outdoor equipment industries.

Rochester, MI - November 1, 2007 - Harman Corporation's dip molded plastic caps, grips and plugs are used as "industrial aids", typically to protect other components during the process of manufacturing, welding, painting or shipping and storage. Industrial Applications of Harman Corporation products span a diverse range of industries and processes such as lawn and garden equipment; toys, tools, furniture, sports equipment, and automotive.

One of the most common masking applications is where a portion of a component, typically a tube, stud or port requires protection during the manufacturing process. The plastic caps and plastic plugs are installed or applied prior to a phosphate wash or other pre-treatment process and kept in place for painting or powder coating of a finished the product. Harman Corporation products are available in different materials to facilitate high temperature and chemical exposures associated with coating processes.

Shipping protection applications include temporary closure of ports and tubing assemblies with plastic cap and plastic plugs to prevent contamination in transit. Plastic caps are frequently used to protect threaded objects during storage and transport. Material attributes associated with storage and transport applications are tensile strength, hardness, UV and chemical resistance.

For more insights and ideas about the wide range of products Harman Corporation provides and how to protect and enhance the value of manufactured products, please visit www.harmancorp.com.

About Harman Corporation
Headquartered in Rochester, Michigan, Harman Corporation has been a manufacturer and global supplier of dip molded flexible vinyl products for nearly 50 years. Starting with the pioneering formulations and process equipment developed by our founder Jack Harman in the late 1950's and early 60's, Harman Corporation has been manufacturing in Rochester, MI since 1963. The company's product line includes plastic caps, grips and plugs; high temperature paint masks, custom dip molding and injection molding. A broad range of companies throughout the world finds value in Harman Corporation's experience, outstanding customer service and extensive capabilities. Harman Corporation provides free samples and quotations upon request through the company's web site, www.harmancorp.com, or by emailing sales@harmancorp.com.


More from Machinery & Machining Tools