Hardy Instruments Enviro(TM) Line of Sanitary Checkweighers and Bench Scales Now NTEP Certified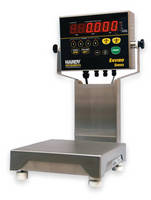 San Diego, CA - Hardy Instruments' Enviro(TM) checkweighers and bench scales meet the needs of the food and chemical industries for sanitary checkweighing electronics that withstand high-pressure, high-temperature washdown environments, and are now NTEP Class III certified, having met the National Conference on Weights & Measures' standards for performance, operating characteristics, features and options of weighing and measuring devices.

Made of 304 stainless steel, with the checkweigher featuring an IP69K rated instrument, the Enviro(TM) checkweighers and bench scales are easy to clean and sanitize, preventing materials and moisture from forming colonization points for harmful bacteria like Salmonella, E. Coli, and Listeria Monocytogenes. The ultra-thick overlay of the checkweigher resists punctures and abrasive cleaning agents. It features four programmable checkweigh ranges, Peak Hold to capture the highest weight value recorded, multi-point calibration, three remote inputs, auto-accumulate and auto-print capabilities, and RS232 and RS485 outputs. This checkweigher boasts the most visible display in the industry, with larger-than-average digits and amber LEDs to reduce eye strain.

The superior sanitary design and durable 304 stainless steel construction of the Enviro(TM) washdown bench scales are a perfect foundation for a reliable sanitary bench scale configuration. Just add your choice of a Hardy Instruments NTEP-approved weight controller/ indicator to easily transfer data directly to PLCs, DCSs and PCs. Scale capacities range from 2 to 100lb, and platform sizes include 10"x10", 12"x12" and 18"x18".

Hardy Instruments has been a leader in weighing solutions for 90 years and is best known for its innovative approaches to precision instrumentation. An ISO 9001:2008-certified manufacturer, Hardy Instruments is based in San Diego, California. For more information about Hardy Instruments, please visit www.hardyinstruments.com or call 1-800-821-5831.

More from Machinery & Machining Tools