Hardness Tester uses LEEB rebound principle.
Press Release Summary: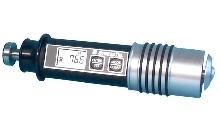 Handheld HardChecker meets ASTM Standard A956-00. It has two-key operation, digital read-out on large LCD, and conversion tables for 9 materials: steel, tool steel, stainless steel, gray cast iron, nodular iron, aluminum, brass, bronze, and copper alloys. It uses 3 mm dia tungsten-carbide ball for impact indenter. Hardness measurement is independent of test direction. It comes with 2 AAA batteries, suitable for 4000 measurements.
---
Original Press Release:

Handheld Rebound Hardness Tester


HardCHECKER Features:
*Meets ASTM Standard A956-00 (Leeb Hardness Testing of Steel Products)
*Operation based on LEEB rebound principle
*Easy two key operation
*Hardness measurement independent of test direction
*Direct digital read-out of hardness value on large LCD display
*Display of single or average value
*Conversion tables for nine materials: steel, tool steel, stainless steel, gray cast iron, nodular iron, aluminum, brass, bronze, and copper alloys
*Hardness conversion scales for HL, HV, HB, HS, HRB, HRC, and N/mm2

Measurement Conversion Range:
Leeb: 150 to 1000 HL
Brinell: 75 to 700 HB
Rockwell C: 20 to 70 HRC
Rockwell B: 35 to 100 HRB
Vickers: 75 to 1 000 HV
Shore: 30 to 100 HS
Tensile Strength: 250 to 2000 N/mm2

Display Resolution: 1 HL, 1 HB, 1 HV, 0.1 HRC, 0.1 HRB, 5 N/mm2
Power Supply: 2 "AAA" alkaline bafteries
Battery Life: 4000 measurements
Dimensions: diameter x length: 1.5 x 6.7 in / 38x 170 mm
Weight: 7 ounces / 200 g
Impact Indenter: Tungsten-carbide ball (3 mm diameter)


Related