Hard Drives support video surveillance applications.
Press Release Summary: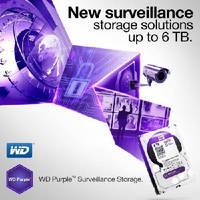 Offering 1–6 TB capacities, WD Purple™ 3.5 in. Hard Drives excel in new and existing home and small business security system environments, featuring up to 8 hard drives and 32 HD video cameras. AllFrame™ technology, in conjunction with ATA streaming, minimizes video frame loss, optimizes playback, and increases number of drive bays supported. To help minimize power consumption, noise, and vibration, IntelliSeek™ Technology calculates optimum seek speeds for system workload.
---
Original Press Release:

WD® Expands Surveillance-Class Hard Drive Line



WD Purple(TM) Now Shipping in 6 TB Capacities to Excel in IoT "fog" Surveillance Environments



IRVINE, Calif. -- WD(®), a Western Digital (NASDAQ: WDC) company and storage industry leader, today announced the expansion of its award-winning WD Purple(TM) line of 3.5-inch hard drives for video surveillance applications, with the release of the 6 TB capacity. Video surveillance is a highly data-rich application within the "Internet of Things (IoT)" ecosystem. WD Purple hard drives excel in new and existing home and small business security system environments with up to eight hard drives and up to 32 high-definition (HD) video cameras. Available today, WD Purple hard drives are being offered in capacities from 1 TB up to 6 TB.



"Video surveillance has long been a pioneering Internet-of-Things application. Driven by machine-to-machine interaction between high-resolution, high-bit-rate video cameras and high-capacity surveillance video recorders, IoT applications bring access and big data analytics to improve user's security," said Matt Rutledge, senior vice president and general manager of WD's Storage Technology group. "WD Purple 6 TB drives enable innovation in this fast growing market."



Features



WD Purple hard drives are equipped with exclusive WD technologies, including:



--  AllFrame(TM) - In conjunction with ATA streaming, AllFrame reduces video frame loss, improves playback and increases the number of drive bays supported. WD Purple includes exclusive firmware enhancements that enable improved playback and minimize interruptions within a surveillance system.

--  IntelliSeek(TM) Technology - With low power consumption playing a crucial role in high-temperature always-on surveillance environments, IntelliSeek(TM) technology calculates the optimum seek speeds for the system workload, enabling lower power consumption and reducing noise and vibration.



Engineered for Compatibility

Built for seamless integration into new or existing video surveillance systems, WD Purple hard drives are designed and tested to surveillance-class standards and are compatible with industry-leading chassis and chip-sets. First introduced in February 2014 with the launch of WD Purple, WD worked closely with surveillance partners to develop a proprietary benchmark to define and demonstrate performance in surveillance systems. Tests of WD Purple hard drives indicate superior performance to competitive surveillance-class brands of storage, especially as cameras, channel count and workloads increase. A special Compatibility Selector is available to assist customers with surveillance drive selection at: http://www.wd.com/en/products/products.aspx?id=1210.



Price and Availability

Shipping now through select distributors and resellers, WD Purple surveillance-class hard drives are now available from 1 TB to 6 TB capacities and covered by a three-year limited warranty. MSRP for the 3.5-inch 6 TB drive, model #: (WD60PURX) is $329.99. Additional information about WD Purple hard drives and limited warranty terms may be found on the company website at http://products.wd.com/wdpurple.



WD Purple Surveillance Hard Drive Launch Partners



Hikvision Digital Technology Co.

"The 4K HD surveillance technology gradually becomes popular. Today, with the brand new WD Purple 6 TB's giant capacity, the 4K HD technology in surveillance application can make a big leap forward and soon become a mainstream surveillance solution. WD Purple will benefit many of our customers with more advanced surveillance products are provided," said Zheng Weirong, senior product manager of China marketing center of Hikvision.



Uniview Technology Co.

"Our surveillance products network is ranged from northern extreme cold areas to southern tropical part in China with 430 safe cities projects operating. As the core part in surveillance storage systems, WD's surveillance drive is always our trustworthy choice. Its high compatibility and reliability can fulfill the demand in 24x7 continuous surveillance video storage. New WD Purple 6 TB is highly expected for its bigger capacity and advanced technology to help us in managing daily increasing HD surveillance data," said Liu Changkang, CTO of Uniview.



Dahua Security

"WD brings the surveillance industry an exciting product. WD Purple 6 TB helps us to solve the problems in dealing with growing storage demand," said Yang Wenzhao, storage product marketing director of Dahua Technology. "Expansion in capacity means not only more storage volume but more assistance to the popularity of 4K HD technology application. With WD's continuous investment in market and product developing, it secures to achieve our common goals in making our society better under providing more advanced surveillance products. We look forward to further co-operation and extending our market together."



UIT Co.

"WD is one of our most important surveillance storage partners and we have accumulated trust through our long partnership," said Tony Chen, chairman and CEO of United Information Technology (UIT). "WD Purple 6 TB will be our first choice storage solution in our new products. With the support of the WD Purple 6 TB giant capacity, we expect to provide better surveillance solutions in the aspect of safe city and smart transport application."



QNAP Systems

"As the surveillance market extends to monitoring with 4K displays, we envision that many users will begin adopting 4K IP cameras that record videos, which are four times larger than videos from 1080p IP cameras," said David Chiang, general manager of QNAP Security. "With the offering of WD Purple 6 TB hard drive, our users can enjoy higher capacities for storage-intensive surveillance applications with 24/7 reliability."



Intelbras

"We are very excited with the new 6 TB WD Purple hard drive," said Juan Carrillo, product manager of Intelbras Security. "The average recording resolution in CCTV products is going through a revolution, demanding larger reliable drives. The combination of high capacity WD Purple drives with Intelbras high resolution recorders will be a huge success in Brazil."



About WD

WD, a Western Digital company, is a long-time innovator and storage industry leader. As a storage technology pacesetter, the company produces reliable, high-performance hard disk drives and solid state drives. These drives are deployed by OEMs and integrators in desktop and mobile computers, enterprise computing systems, embedded systems and consumer electronics applications, as well as by the company in providing its own storage products. WD's leading storage devices and systems, networking products, media players and software solutions empower people around the world to easily save, store, protect, share and experience their content on multiple devices. WD was established in 1970 and is headquartered in Irvine, California. For more information, please visit the company's website at www.wd.com.



Western Digital Corp. (NASDAQ: WDC), Irvine, Calif., is a global provider of products and services that empower people to create, manage, experience and preserve digital content. Its companies design and manufacture storage devices, networking equipment and home entertainment products under the WD, HGST and G-Technology brands. Visit the Investor section of the company's website (www.westerndigital.com) to access a variety of financial and investor information.



Western Digital, WD, the WD logo are registered trademarks of Western Digital Technologies, Inc. in the U.S. and other countries; WD Purple and IntelliSeek are trademarks of Western Digital Technologies, Inc. in the U.S. and other countries. Other marks may be mentioned herein that belong to other companies. As used for storage capacity one gigabyte (GB) = 1 billion bytes, one terabyte (TB) = one trillion bytes. Total accessible capacity varies depending on operating environment. The amount of surveillance footage that can be stored on a hard drive will vary based on the file size and format settings within a surveillance system and capacity of the hard drive. Performance and capture of surveillance footage will vary depending on your surveillance system hardware and software components, configurations, design and settings. See support.wdc.com for limited warranty terms and conditions.



CONTACT:

Heather Skinner

WD Press Relations

949.672.7920

heather.skinner@wdc.com





More from Agricultural & Farming Products