Hard Drive provides removable data storage.
Press Release Summary: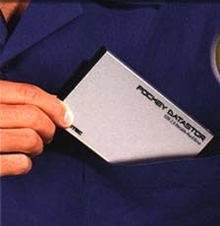 Pockey-DataStor USB 2.0 pocket-sized hard drive measures 5 x 3 in. It offers 20, 30, and 40 GB capacities, is fully USB 2.0 compliant, and provides transfer rates up to 480 mbps. Unit is self-installing under Windows, ME, XP, and 2000, and is backward compatible to USB 1.1 standard. Pockey-DataStor is compatible with laptop and desktop computers, PC's and MAC's, Linux and DOS. It includes plug-n-play, hot-swappable, and hot-pluggable features.
---
Original Press Release:

Pocketec Releases Ultra Portable USB 2.0 Hard Drives for PC's, MAC's, Linux and DOS


CHATSWORTH, CALIFORNIA (July 01, 2002) Pocketec(TM), the leading provider of portable storage solutions, introduces the Pockey-DataStor, USB 2.0 hard drive. With massive storage capacities, fast transfer rates, and ultra-portability, the pocket-sized DataStor is the most exciting removable storage product available today! Pocketec squeezed the power of a computer's internal hard drive into a small, sleek enclosure that measures just 5 in x 3 in x _ in. The Pockey-DataStor offers 20GB, 30GB, and 40GB capacities and literally dozens of drives can be liked together via USB hubs to create a nearly limitless library of files. Users can store thousands of mp3 files, photos, videos and emails and still have enough room to back up their critical programs and data.

The "Hi-Speed Certified" Pockey-DataStor is fully USB 2.0 compliant and offers transfer rates up to 480 mbps; that's 40 times faster than the previous speed of USB 1.1. The Pockey-DataStor is self-installing under Windows, ME, XP, and 2000, and is backward compatible to the older USB 1.1 standard. Users can easily connect their Pockey-DataStor to older computers using the included drivers.

The Pockey-DataStor gives you the freedom and flexibility to take all of your files with you wherever you go", said Robert Jung, President of Pocketec(TM). "Basically, the DataStor liberated me from my laptop. Instead of carrying around my computer and all my accessories in a 15-pound bag, I just take my 5-ounce DataStor with me everywhere, " says Jung.

You never have to worry about running out of battery power or lugging around a cumbersome AC adapter because the Pockey-DataStor draws it's power right through the USB cable. The Pockey-DataStor is compatible with laptop and desktop computers, PC's and MAC's, and even Linux and DOS. Cross-platform file sharing is a breeze and the Plug-N-Play, hot-swappable, and hot-pluggable features make the Pockey-DataStor convenient and easy to use.

The 20GB, 30GB and 40GB Pockey-DataStor drives will retail for $199, $249, and $349, respectively, and will be available at most major retail, e-tail, and mail order suppliers. Custom colored cases are available directly from Pocketec and may be ordered directly from the Pocketec(TM) online store at www.pocketec.net.

For more information about the Pockey-DataStor or to arrange for an evaluation unit, please contact Bill Handel with Pocketec at (818) 717-9556 or send an e-mail to bill@pocketec.net.

21947 Plummer St, Chatsworth, 91311, Phone (818) 717-9556 Fax (818) 717-9557 www.pocketec.net

More from Architectural & Civil Engineering Products