HANG TABS, the Invisible Merchandising Solution!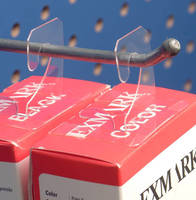 Successful Product merchandising at retail comes in many shapes and sizes.  A popular method of presenting product is to hang it in sight of consumers. All kinds of hooks are used, including but not limited to the ever-present pegboard and slatwall display hooks.  Corrugated POP displays employ hooks too, as well as mounting hooks on Clip Strip® Merchandising Strips.  



Many packages are created with shelf space in mind and no consideration is given to "suspending" the merchandise. With no built-in hang holes and a retailer who offers hook-space or merchandising strips as the only option - what does a merchandiser do?  He uses Hang Tabs.



Clip Strip Corp. Senior Account Executive Arc Shelichach mentions, "we receive so many inquiries by brands that have an approved product but don't know how in the world they are going to hang it."  He calms their fears with different solutions based on their specific requirements, and more often than not, the almost invisible "hang tabs" are the answer.  Arc goes on to say, "it's understandable, especially by brand merchandisers that have traditionally, always used shelf space. It is also common with newcomers that have struggled to get their product into a major chain and never expected their packaging would be tested first, on clip strips or on display hooks. Often, their first reaction is panic. And because Hang Tabs are made of crystal clear plastic and are designed not to be noticed, they rarely come to mind as a possible answer. Hang Tab awareness and education begins by having a need and seeking a solution."



Clip Strip Corp., inventors of the globally utilized point of purchase Clip Strip® Merchandiser, offers a wide variety of hang tabs for every conceivable type of package design. All are made in the USA and are of the very best quality on the market. They attach with an adhesive stripe; usually in the back, but can also be on top if required.  Choose from different styles with different mounting holes or hanging configurations, such as delta, euro or round holes or J-hook style. No need to panic!



You can see their complete hang tab line up at www.ClipStrip.com, navigate to the "Product Merchandising" section or call them at 1-800-425-4778 today.



More from Architectural & Civil Engineering Products