Handheld XRF Increases Profit for Recyclers of Automotive Catalytic Converters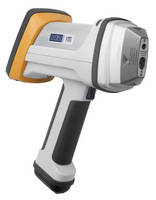 Oxford Instruments handheld XRF analysers support recyclers of automotive catalytic converters to determine precious metals fast and accurately whilst ensuring environmental compliance.

Ceramic-based automotive catalytic converters contain the precious metals Platinum (Pt), Palladium (Pd) and Rhodium (Rh). Because of the high value of precious metals, used converters are recycled: Following the decanning from the metal surround, the honeycomb core is removed and ground to a fine powder. This can then be smelted to extract the pure precious metals or sold directly to a refiner. Either of these processes requires rapid and accurate analysis of the Pt, Pd and Rh content. Using a portable X-ray Fluorescence (XRF) analyser ensures increasing profit for recyclers through exact and fast pricing.

The X-MET7500's improved, intuitive and easy-to-read graphical user interface and large functional icons make the instrument easy to use. The XRF analyser is rugged yet light, designed for the harshest environment with a bright and large touch screen ensuring optimal outdoor viewing. With a battery life of 10 to 12 hours, recyclers can operate for a full working day on a single battery charge, enabling cost effective analysis at various stages in the recycling and refining process.

The X-MET7500 from Oxford Instruments can also analyse and grade the steel housing when needed with the inbuilt alloy analysis mode. Additionally the handheld analyser allows rapid and reliable screening for toxic elements like Cadmium (Cd) and Mercury (Hg). This assures recyclers that the waste leaving their site will not contaminate the environment and they comply with environmental standards.

Oxford Instruments' newly released application note highlights instrumentation and calibration for the determination of Pt, Pd and Rd in the catalyst powder as well as sample preparation and analytical performance of the X-MET7500.

This application demonstrates that the X-MET7500 provides repeatable and accurate results within seconds for cost-effective determination of precious metals in automotive catalytic converters

Take a closer look to find out more. Contact us today at industrial@oxinst.com to arrange a demonstration or to request an electronic copy of the application note.


More from Laboratory and Research Supplies and Equipment