Handheld Visible Laser Source for Optical Network Maintenance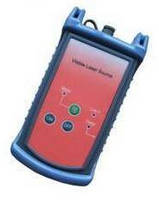 Toronto, Canada - GAO Fiber Optics (www.GAOFiberOptics.com) is offering its handheld visible laser source which is used to find fiber faults in both single and multi mode fiber. The laser source overcomes the usual limitation of the dead zone of an OTDR to accurately detect fiber fault positions making it an ideal instrument for the installation and maintenance of optical networks.

This handheld visible laser source, model C0280003 features low voltage warning, auto power-off, simple button operation and an energy-saving design. It uses visible red light to indicate the location of fiber faults from a macro bend point, break, problem coupler or connector or a mechanical splice that is not well aligned. It can distinguish the faults in fiber jumpers, jumper boards, distribution frames and tie-ins.

This compact visible laser source operates at a wavelength of 650 nm ± 20 nm and is a perfect helper for use with an OTDR. It offers FC, ST and SC adaptors. CW and 2 Hz alternative optical output modes are also available. In addition, it is powered by a 9 V/160 mAh NI-MH rechargeable battery which provides continuous operation of 8 to 10 hours.

This handheld visible laser source belongs to GAO's family of Visual Fault Locator. Another two products in this line include Rugged Handheld Visual Fault Locator which is widely used for fiber optic network maintenance in telecommunications and CATV systems and Optical Visual Fault Locator which is a basic tool for the maintenance of fiber optic networks, optical systems including LAN, FDDI and ATM, telecommunications and CATV networks. GAO's family has provided the users a lot of featured products with good quality, competitive price and good service and is well accepted by most customers in North America.

For sales inquiries please contact:
1-877 585-9555 ext. 601 - Toll Free (USA & Canada)
1-416 292-0038 ext. 601 - All Other Areas
sales@gaofiberoptics.com

About GAO Fiber Optics
GAO Fiber Optics (www.GAOFiberOptics.com), a member company of GAO Group, is professionally engaged in R&D and production of fiber optical communication products.

More from Packaging Products & Equipment