Handheld Vibration Analyzer aids QA, diagnostic testing.
Press Release Summary: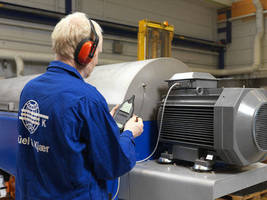 Used to conduct vibration measurements, 2250-H contains advanced Fast Fourier Transform (FFT) software v3.3 for pass/fail test results as well as detailed frequency analysis. Color touchscreen display facilitates measurement process by helping users perform tasks required most often, such as overlaying 2 measurements for comparison, while drag-and-drop tolerance windows aid pass/fail spot checks. Overview display can show test results for up to 10 different ranges, levels, or parameters.
---
Original Press Release:

The Fast and the Fourier



Brüel & Kjaer launches a new hand-held vibration analyser

Performing high-precision vibration measurements in areas such as quality assurance, product development and vibration diagnostics is now much easier with Brüel & Kjaer's hand-held, vibration analyser - Type 2250-H.

The 2250-H vibration analyser contains advanced Fast Fourier Transform (FFT) software Version 3.3, which provides simple pass/fail test results or more detailed frequency analysis for diagnostic testing, allowing engineers to make quick and easy checks of vibration performance. FFT analysis is ideal for assisting product development, quality control, building vibration analysis, troubleshooting on machinery and automotive component analysis.

The 2250-H meter's colour, touch-screen display offers a unique and intuitive measurement process, helping users to perform the tasks most often required - but not typically available on hand-held instruments - for example, in vibration testing, overlaying two measurements for comparison without needing to store results, simple drag and drop tolerance 'windows' for pass/fail spot checks. And a simple overview display in order to view test results on up to ten different ranges, levels or parameters. It also offers user defined metadata fields and a voice commentary option for documenting repetitive measurement tasks.

Customers that already own a Brüel & Kjaer 2250 or 2270 sound level meter can turn it into a focused vibration measurement tool just by loading the FFT software into their analyzer. Then - together with an accelerometer - they can start making vibration measurements.

FFT is a digital signal processing technique that converts a time record into a narrow band constant bandwidth filtered spectrum. The measurement is defined by specifying a frequency span and a number of lines (or filters). The recorded FFT is displayed by as many as 6,400 data lines on the meter's screen - which the user can select individually and expand to view the details.

For more information, please contact: +44 (0)1763 255 780, email: ukinfo@bksv.com or visit: www.bksv.com/Type2250H

About Brüel & Kjaer

Brüel & Kjaer is a world-leading manufacturer and supplier of sound and vibration measurement systems. Brüel & Kjaer helps its customers measure and manage the quality of sound and vibration in their products and in the environment. Focus areas are aerospace, space, defence, automotive, ground transportation, airport environment, urban environment, telecom, and audio.

Brüel & Kjaer has an unparalleled portfolio of sound and vibration equipment, and is a renowned deliverer of innovative instrumentation, including sound level meters, microphones, accelerometers, conditioning amplifiers, calibrators, noise and vibration analysers and software. To see the full range of products and systems, please visit www.bksv.com

Brüel & Kjaer also runs a variety of training courses, from basic introductions to noise and it's effects to more specialised classes teaching customers how to get the most out of their equipment. Free, online training courses - conducted by our expert engineers - run throughout the year too. For all course registration details visit http://bksv.com/courses

Brüel & Kjaer is a subsidiary of UK-based Spectris plc (www.spectris.com) that has annual sales of £787m and employs around 6,000 people worldwide in its 13 business units. Brüel & Kjaer has 1150 employees worldwide, and is represented by sales offices in 55 countries.


More from Laboratory and Research Supplies and Equipment