Handheld Thread Verification And Chasing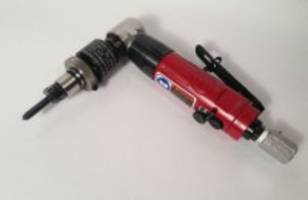 Why New Vista's TG Guns are Replacing Manual Gaging and Hand Chasing
New Vista is well known for its large offering of automated thread verification and chasing equipment. But not every application requires an automated solution. If your volume is limited, a powered handheld device may be the answer. If you are still gaging or chasing threads manually, it's probably for one or more of these reasons:
The guns you have seen are too slow
The gage / chaser tears up the mouth of the hole.
Guns you have tried jam if you hit the end of the threads, and you can't back the tool out
Tool breakage is frequent
The new TG guns solve all these problems, and they are inexpensive as well. Generally you can figure out that a TG gun will be 10 to 20 times faster than manual gaging / chasing. In high labor rate countries the payback in labor savings can be as short as one month. In low labor rate countries, payback might be six months, which is still very good. And you can now get started with a TG setup for as little as $1,650 USD.
Notes:
The gun never jams when it encounters a short thread (the holes with the red tape).
The gun doesn't hesitate, crossthread or hang up at the mouth of the holes.
Even inexperienced operators can quickly learn to use these guns effectively.
If you have a limited budget you might prefer the TG-1A or TG-2A guns. They cost less. These don't reverse automatically, so you watch a stop collar to determine if you have attained depth.
Send details of your application to main@newvistacorp.com or call U.S. telephone 410-342-3820 Extension 0. We speak English, Spanish, and Korean. There are four different TG guns and a dozen or so different toolholders. You will want to be sure to get what is best for your application. You can order direct from New Vista or through any distributor. If you buy a TG Unit and want to return it (within 15 days) you can get a full refund, minus a 15% restocking charge. You will be responsible for shipping.
More from Explosives, Armaments, and Weaponry