Handheld Sensor projects view field onto target area.
Press Release Summary: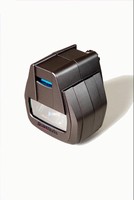 With scanning rate of up to 458,000 points per sec, handheld ScanWorks® V5(TM) sensor allows speedy measurement of areas while maintaining dense point resolution of 14 microns. Its dynamic range enables accurate measurements on highly reflective and dark surfaces in all lighting conditions without need for prior surface treatment. Device is used to collect real-time data within 3rd party mass-point-cloud reverse engineering and inspection interface.
---
Original Press Release:

Perceptron Announces New Scanworks V5 Sensor



(PLYMOUTH, MI) - Perceptron, Inc., a world leading supplier of 3D laser-scanning sensors for both portable and fixed co-ordinate measuring machines is announcing the next generation of hand-held 3D laser scanners in the form of the ScanWorks® V5(TM) sensor. Its ingenious design gives unparalleled accuracy, speed and flexibility to users tackling the most challenging reverse engineering and inspection tasks.

An incredible scanning rate of up to 458,000 points per second allows users to measure areas much faster than with competitive scanners while maintaining a dense point resolution of approximately 14 microns (0.0005''). Specifically designed for hand-held use, the V5(TM) also projects the sensor's field of view onto the target scanning area so the user can easily visualize the best scanning strategy. With the same traceable high accuracy as the Scanworks V4i(TM) scanner of 24 microns (0.0009'') at 2 sigma, users can be sure their projects are no longer hampered by any lack of confidence in 3D scanning technology.

The V5(TM) sensor is light and compact enough to facilitate measurement in even the hardest-to-reach areas, while its amazing dynamic range enables the sensor to produce accurate measurements on highly reflective and dark surfaces in all lighting conditions without the need for prior surface treatment.

Along with new hardware offerings, Perceptron has updated their scanning software to include a new MS Windows XP-style interface, intelligent sensor calibration, real-time point shading and improved automatic exposure control. Another major new feature is IDM(TM) (Intelligent Density Management), which constantly monitors the incoming data, and if the user wishes, dynamically limits scan data generation in low-interest areas to enable faster throughput. The new range of hand-held scanners is still able to collect real-time data within the 3rd party mass-point-cloud reverse engineering and inspection interface of the users' choice, thus removing timely file transfer issues.

The new ScanWorks® sensor range now positions Perceptron at the forefront of 3D laser scanning technology and gives the user greater flexibility while maintaining accuracy and ease of use.

About Perceptron
Perceptron is a global public company with offices in the Americas, Europe and Asia and over 25 years of experience in 3D non-contact applications. Producing over 5000 sensors each year, Perceptron has a worldwide base of installations in major manufacturing companies. We are committed to consistently exceed customer's expectations by providing continuous improvement in products, processes and services.

Formed in 1981 to help the automotive industry monitor and control the dimensional quality of automobile bodies and subassemblies, laser-based monitoring technologies have become the core competency of the company. Both in-line and end-of-line process measurement have grown into a group of flexible systems that provide monitoring and quality assurance throughout the entire manufacturing process. Perceptron's products are proven and reliable for improving productivity and quality, and reducing scrap, rework, and costs.

Today's computer power and innovation by software partners in CAD/CAM, inspection, solid modelling, rapid prototyping, reverse engineering and more are taking us to new and exciting places. Key Perceptron personnel are involved with government-sponsored programs, such as NIST, for advanced product and process development. The company is an active member of the OSIS group working to create industrial standards for scanning systems. We continue to look for better ways to design, produce, and deliver superior products that help our customers be more competitive in an increasingly global competitive environment.

For more information, contact:
Rhex Edwards
Business Development Manager
Tom Thompson
Business Manager/ScanWorks
Phone: 734/414-6100
fax: 734/414-4700
3DScanning@perceptron.com

Jeff Bourque/Tim Keenan
G. Temple Associates
248/324-9800
j.bourque@gtemple.com

More from Computer Hardware & Peripherals