Handheld RFID Reader operates at 433 MHz.
Press Release Summary: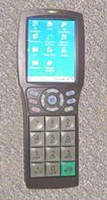 Model GAO 214031 is palm-sized, active handheld reader that manually scans and programs individual tags and also allows users to scan barcode label and write information to RFID tags. Unit communicates using dual-frequency method via RS232, USB Client/Host, WLAN, GPRS, and Bluetooth ports. Parity bits and cyclic redundancy checks are used for data integrity. Unit operates on 7.4 V 2,000 mAh, Li-Ion gas-gauge battery or DC 9.5 V adapter to AC, 100-240 V, 50-60 Hz power source.
---
Original Press Release:

GAO Offers Its 433 MHz Active Handheld RFID Reader



Toronto, Canada - GAO RFID Inc. (GAORFID,com) recommends its active handheld RFID reader (GAO 214031). This light weight and palm-sized handheld reader is an ideal solution for localization and tracking merchandise, inventory, or other assets.

GAO's 433MHz active handheld reader is a multi-functional handheld device that can manually scan and program individual tags enabling users to selectively identify a particular tag and change its information. A barcode scanner is an option for users to transit old barcode systems to newer RFID systems. Users can scan a barcode label and write the information to the RFID tag. RS232 and USB Host / Client ports can be used for data communication with a host computer. The RFID reader operates using a dual-frequency method allowing fast and reliable communication. All communication packets use parity bits and cyclic redundancy checks to ensure data integrity.

GAO's 433MHz Active Handheld Reader provides the following features and benefits:

Light weight handheld reader/writer

Selective tag scanning and programming

Ability to optionally read barcode labels and writing information to RFID tags

Dual frequency for faster and more reliable communication

Uses parity bits and cyclic redundancy checks for data integrity

Main specifications of GAO's 433MHz Active Handheld Reader:

Transmit Frequency: 433MHz

Receive Frequency: 916.5MHz, 927MHz, or 868MHz

CPU: XScale PXA255, 400MHz

Memory: 128MB RAM (SDRAM), 64MB RAM (Flash ROM)

Transmit Range: 1.5m (5ft)/30m (100ft) using optional external antennas

Receive Range: 3m (10ft)/15m (50ft) using optional external antennas

Communications Interface: RS232, USB Client/Host, WLAN, GPRS, Bluetooth

Power Requirement: 7.4V 2,000mAh, Lithium-ion gas guage battery

External Power: DC 9.5V adapter to AC power source (AC 100V to 240V, 50Hz to 60Hz)
Power Consumption: >10 hours

For more information about the 433MHz Active Handheld Reader, please visit www.GAORFID.com or contact [email protected].

For any media queries:

Director of Marketing,

416-292-0038 ext 238

[email protected]

GAO RFID Inc. is a member of GAO Group, which also includes:

GAO RFID Inc.: www.GAORFID.com

GAO Tek Inc.: www.GAOTek.com

GAO Research Inc.: www.GAOResearch.com

WowGao Inc.: www.WowGao.com

GAO RFID Asset Tracking Inc.: www.GAORFIDAssetTracking.com

GAO Embedded Inc.: www.GAOEmbedded.com

GAO Instruments Inc.: www.GAOInstruments.com

GAO Comm Inc.: www.GAOComm.com

GAO Fiber Optics Inc.: www.GAOFiberOptics.com